Easy Breezy Key Lime Pie Ice Cream

Print Recipe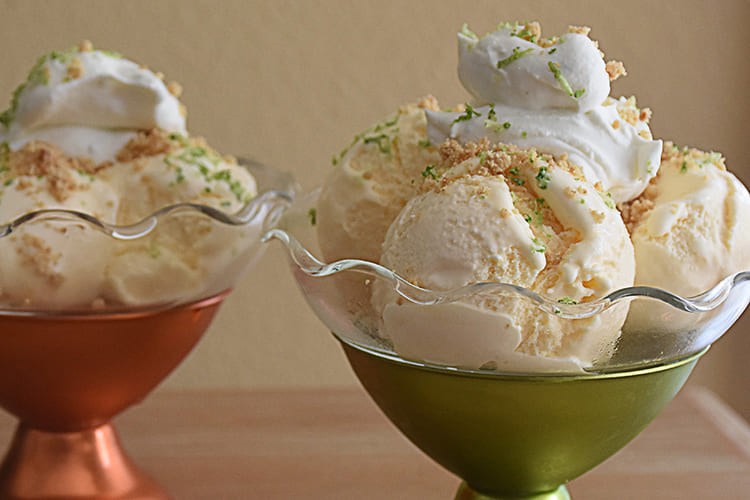 June is National Dairy Month. So let's raise an ice-cold glass of milk to toast Florida's more than 100 dairy farms. And while we could leave it at that, there is so much more to this monthlong focus on dairy awareness. The possibilities are endless because milk is only the beginning of this culinary journey.
Just check out our new campaign "Undeniably Dairy," to see just how easy it is to help yourself to several servings of all things dairy every day.
Every Thursday in June we are exploring how the versatility of dairy products fit into busy healthful, lifestyles with recipes that won't bust the budget. Today's recipe is Key Lime Pie Ice Cream, a refreshing summer dessert that deconstructs the classic Florida treat from the crust to the topping.
Easy Breezy Key Lime Pie Ice Cream
Yield: 5 servings

Ingredients:
For the ice cream:
2 cups heavy whipping cream
1 (14-ounce) can sweetened condensed milk
1/2 cup fresh Key lime juice
2 teaspoons freshly-grated lime zest
Graham cracker topping:
1 cup crushed graham crackers
1 tablespoon melted butter, or more if needed
2 tablespoons extra-fine sugar
For the whipped spiced-rum cream:
1 cup whipping cream
1 teaspoon spiced rum
1 teaspoon freshly grated lime zest
Directions:
Line a metal or glass loaf pan with wax paper. For the ice cream, whip the cream until stiff peaks form. Whisk together the sweetened condensed milk, Key lime juice and zest. Gently fold in whipped cream in thirds. Fold into the prepared pan. Cover with plastic wrap and then wrap in aluminum foil. Freeze pan for 8 hours.
Meanwhile, prepare the graham cracker topping. Heat oven to 350F. Combine crushed crackers, melted butter and sugar until mixture is the consistency of soft sand. Turn mixture onto parchment paper lined baking sheet and press flat. Bake for 10 minutes. Remove pan from oven and let cool. Break apart and set aside in bowl.
For the spiced-rum cream, whip cream until soft peaks form. Add spiced rum. Beat until stiff peaks form, then fold in lime zest.
Remove loaf pan from freeze and let sit on the counter for 5-10 minutes. Dip an ice cream scoop in hot water and then pull through the pan to form balls. Serve in a bowl topped with graham cracker crumbles and the rum flavored whipped cream.
Time-saver tips:
Buy a ready to use graham-cracker crust and crumble for the topping.
Freeze the bowls and beaters used for whipping the cream in Steps 1 and 3.
Freeze the ice cream mixture in cupcake paper lined muffin tins. The small increments will freeze faster and serving portions will be easier to control.
Dairy and your health
Calcium, a key component of dairy, is used for building bones and teeth and in maintaining bone mass. Dairy products are the primary source of calcium in American diets. Diets that provide 3 cups or the equivalent of dairy products per day can improve bone mass.
Florida Dairy Fun Facts
Florida dairy farmers recycle about 170,000 tons of byproducts such as citrus pulp, brewers' grain and whole cottonseed that are consumed by the cows instead of ending up in landfills.
There are about 123,000 dairy cows in Florida that collectively produce about 2.34 billion pounds of milk a year.
The total represents 277 million gallons of Florida-produced milk in the grocery store.
If you like this...