Florida Dairy Farmers Becomes Proud Partner of Orlando Pride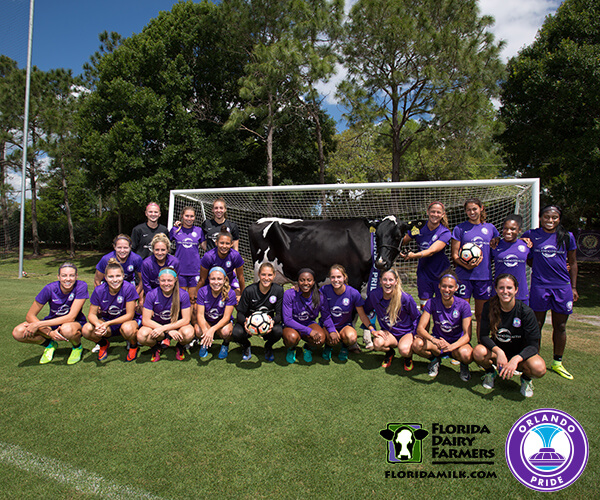 Florida Dairy Farmers has joined Orlando Pride as a Proud Partner for the 2017 National Women's Soccer League (NWSL) season.
Through this partnership, Florida Dairy Farmers also becomes an official partner of Orlando City Youth Soccer and an associate partner of the Orlando City Foundation's Soccer for Success Program.
"We are proud to have Florida Dairy Farmers' support for both the Pride and our youth-facing programs," said Rob Parker, vice president of Orlando City SC. "They have been great stewards in the community helping empower youth to achieve healthy lifestyle choices and that is something we aim to do as well through our teams and athletes."
Pride joined the City Beautiful in 2016 for their inaugural campaign in the NWSL, and its players and coaches have become integral parts of the community through the Orlando CIty Foundation, Club partner activations and personal endeavors.
"Florida Dairy Farmers is proud to partner with Orlando's premier women's soccer club," said Diahann Smith, Marketing Director of Florida Dairy Farmers. The players exemplify the same values and drive as our hard-working dairy farmers. We are excited to educate the community about the benefits of milk and dairy products, while cheering on The Pride."
Look for Florida Dairy Farmers throughout the Pride season, including Saturday April 22 on Wall Street before the home opener vs Washington.