Fuel Up to Play 60's ambassador program allows students to have a voice along with the adults. To become eligible to be a local, state or national ambassador you must earn qualifying points. You can earn points by registering, participating in plays, getting other students involved, working with a program advisor, completing challenges, and much more. Log onto www.FuelUpToPlay60.com, join and start earning points to be on your way to becoming a leader in your school!
Selected ambassadors have the opportunity to:
Attend the National Student Ambassador Summit
Be a student judge at our Gridiron Event
Speak on behalf of other students
Participate in conference calls, special events, and photo shoots
Florida's 2016-2017 State Ambassador
Chase Carroll-Lake Asbury Elementary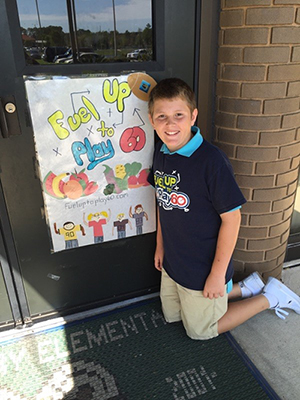 My school's PE coach introduced us to the Fuel Up to Play 60 (FUTP60) program. At the time I didn't know what the program was about but thought it was worth a try sincepartofits purpose was something I love, playing outdoors. I checked out some of the plays to see if I could do them with my friends. I found a play called Milk Mustache that our school ended up doing and after that FUTP60 really sparked in my school. Our school ended up getting so involved we won tickets to a Jacksonville Jaguars game! After doing so much with the program at our school and seeing the difference it can make with kids', I decided to try and become the FUTP60 State Ambassador for Florida. And believe it or not, I got selected!
FUTP60 is important to me because of the difference it makes in kids' lives and because of the way it makes healthier choices become easier choices. I loved the way it gave kids' goals to try and achieve! Don't even get me started on the National Summit; it is such an amazing experience for Student Ambassadors and Program Advisors! You learn so much about yourself that you didn't know! I also love the way they help kids with their leadership skills by doing a required speech that they have to present in front of their peers! You can be part of this amazing program by going online to FuelUpToPlay60.com, making an account and implementing plays in your school!