Print Recipe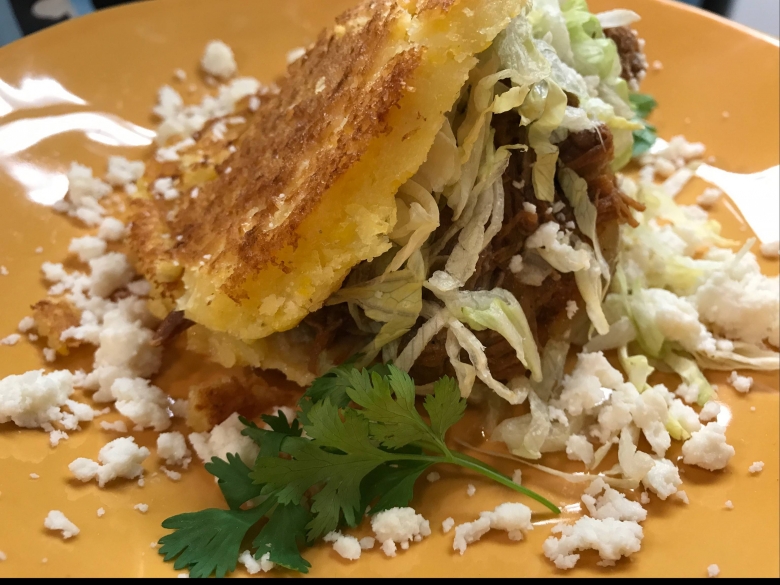 By Chef Chris Valdes, www.chefchrisvaldes.com
Ingredients
1 cup milk
1 cup water
1 teaspoon of salt
1 1/2 cups harina P.A.N.
1 teaspoon corn oil
Instructions
1. In a medium bowl add milk, water and salt until the salt is dissolved.
2. Slowly add the harina P.A.N. Mix with your hands, making circular movements and breaking any lumps that may form with your fingers. Let rest 5 minutes to thicken.
3. Preheat a non-stick pan or griddle.
4. Add the oil to the dough and work it in with your hands for 2 minutes. The dough should be firm enough to hold its shape without cracking when molded. If it is too soft add a little more of harina P.A.N; if too hard add a little more milk or water.
5. Form 3 inch balls and flatten them gently until they're about 1/2-inch thick discs.
6. Cook the arepas on a non-stick pan on low heat for 5-7 minutes on each side or until lightly golden brown.
7. Cut them three quarters of the way down, spread butter and stuff with cheese, shredded meat, chicken, ham, eggs or your favorite filling. ¡Delicioso!
If you like this...