InstaPot: Creamy Pork with Mushrooms and Smashed Red Potatoes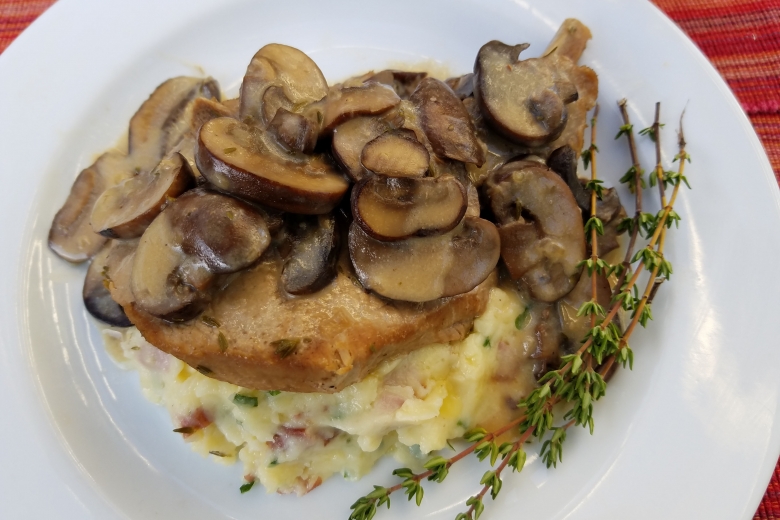 Print Recipe
Ingredients
Preparation
Creamy Pork with Mushrooms and Smashed Red Potatoes
By Heather McPherson
Yield: 6 servings
Here is a great meat and potatoes meal suggestion. The sauce is so good it would actually make a great creamy mushroom soup as well!
Pork:
4 tablespoons unsalted butter, divided
8 ounces thinly sliced cremini mushrooms
1/2 cup finely diced sweet yellow onions
1 teaspoon freshly chopped thyme leaves
1 cup chicken broth
1 tablespoon soy sauce
4 (3/4 inch thick) bone-in pork chops, about 1 3/4 pounds
1/4 cup heavy whipping cream
2 tablespoons corn starch
Coarse ground salt and pepper to taste
Potatoes:
6-10 small red (creamer) potatoes
3 tablespoons unsalted butter, at room temperature
1/2 cup shredded Monterey Jack cheese
1/4 cup heavy whipping cream
Garnish: 1 tablespoon freshly chopped Italian flat-leaf parsley
Using a 6-quart Instant Pot select "saute" and adjust to "normal". Melt 2 tablespoons butter in the insert. Sear the chops on both sides. Remove chops and set aside. Add remaining butter to insert. When melted, add mushrooms, onions, thyme, salt and pepper. Cook 11 to 13 minutes or until mushrooms start to brown and onions soften.
Meanwhile, pierce potatoes with fork and microwave on high until fork tender, about 6-8 minutes. In baking pan or casserole dish give the potatoes a rough smashing with a potato masher or fork. Fold in butter, 1/4 cup whipping cream, and shredded cheese. Set aside in a warm 200F oven.
Select "cancel" on the Instant Pot with the mushrooms. Stir in broth and soy sauce until the browned bits are removed from the bottom of the insert. Bring mixture back to a simmer, about 4 minutes. Add pork chops to mixture in insert. Secure lid; set pressure valve to "sealing". Select "manual" and cook on high pressure 15 minutes. Select "cancel". Set pressure valve to "venting" to quick-release pressure. Internal temperature of pork should be at least 145F using instant-read thermometer. Remove pork chops, and place on top of smashed potatoes. Cover with foil and return to the oven.
In small bowl, whisk the 1/4 cup whipping cream and cornstarch to combine. Select "saute" and adjust to "normal". Heat liquid to simmering. Cook 30 to 60 seconds, beating frequently, until thick. Select "cancel". Drizzle sauce over pork chops. Top with fresh parsley or fresh thyme.