Print Recipe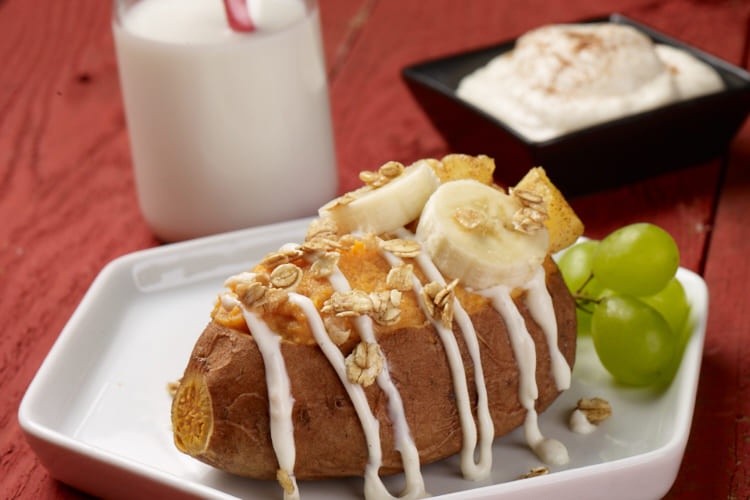 Yield: 4 servings
Serving size: ½ potato with pineapple
Ingredients:
2 medium sweet potatoes, scrubbed and oiled
2T butter
1 cup Greek vanilla yogurt
1/2 cup brown sugar
1 tsp cinnamon
1 cup pineapple, chunks
½ cup granola
2 bananas, sliced
Directions:
Scrub potatoes clean, poke with a fork. Lightly coat potatoes with butter and wrap in a moist paper towel.
Place in microwave and cook on high for 10 minutes (turn over at 5 minutes). Cook until soft. Remove and cool for 5 minutes before cutting in half and scooping out center. Combine with yogurt.
Combine brown sugar and cinnamon in a small bowl. Role pineapple spikes in mixture. Remove spikes. Add remaining brown sugar and cinnamon mixture to scooped out potato. Mash together.
Place mixture back in scooped out potato "boats".
Garnish top of potatoes with granola and bananas. Place spike shaped cinnamon pineapples around the perimeter of the potatoes. Sprinkle the rest of the brown sugar around the sweet potatoes.
Serving instructions: Place one half of breakfast boat on plate with cinnamon pineapples and a cold glass of milk.
If you like this...