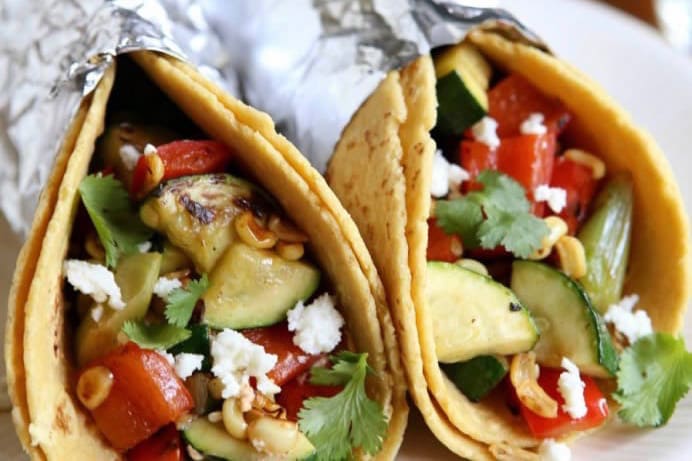 15

5

20

4

Print Recipe
Ingredients
For Chipotle Sauce
3 tablespoons butter, melted
1/3 cup sour cream
1/2 teaspoon ground chipotle peppers
1 tablespoon cilantro, chopped
1 tablespoon fresh lime juice
For Tacos
1 red pepper, chopped
1 medium zucchini, chopped
2 ears of corn on the cob, kernels removed
3 scallions, chopped
1 tablespoon olive oil
Salt and pepper
Corn or flour tortillas, for serving
Cilantro, for serving
Queso fresco, for serving
Preparation
To make chipotle sauce, whisk together butter, sour cream, ground chipotle pepper, cilantro, and lime juice. Any leftovers should be stored in fridge.
Preheat grill to medium high heat.
Combine chopped red pepper, zucchini, corn kernels, scallions, olive oil, salt, and pepper. Dump out onto large sheet of foil or flat pan designed to be placed directly on grill. Transfer to the grill and cook until veggies are tender and slightly charred, about 5 minutes, stirring frequently.
Serve immediately with tortillas, cilantro, cheese, and chipotle sauce.