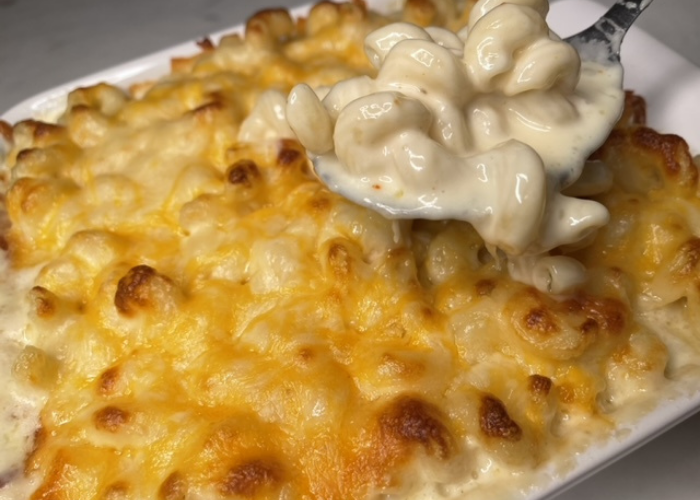 5

25

30

8

Print Recipe
Ingredients
1 – 16 oz ounce box DeCecco Cavatappi pasta
½ cup butter
4 oz. cream cheese, cubed
1/2 cup all-purpose flour
1 1/2 cups whole milk
1 1/2 cups of heavy cream
12 oz. Cabot Alpine Cheddar Cheese, shredded
8 oz. Cabot Vermont Cheddar cheese, shredded
8 oz. Roth Gran Cru cheese, shredded
¾ teaspoon salt
¼ teaspoon white pepper
½ cup Yancey's Fancy Champagne Cheese as topping
Preparation
Bring a large pot of salted water to a boil. Cook pasta in boiling water, stirring occasionally, and cooking according to package directions.
Meanwhile in a separate sauce pot, melt butter over medium heat. Stir in flour, salt, and pepper and cook for about 5 minutes, mix continuously.
Slowly pour milk into the sauce pot while stirring until mixture is smooth and starting to gently boil, about 3-5 minutes. Add cheeses one at a time to mixture until fully incorporated and stir until all the cheeses are fully melted and well combined.
Pour cheese sauce over drained pasta and stir gently until cheese saucecovers all the pasta. Top with Yancey's Fancy Champagne Cheese and any other remaining cheeses. Serve immediately.
Notes: Take the mac and cheese to the next level and top with some shredded roasted BBQ pork. For a smooth sauce make sure the flour and butter mixture (roux) are cooked well and not grainy before adding the cream, milk and cheeses. Add garlic or any other seasonings to make it your own.