Burrata Salad with Fresh Mango, Cantaloupe & Heirloom Tomatoes

Print Recipe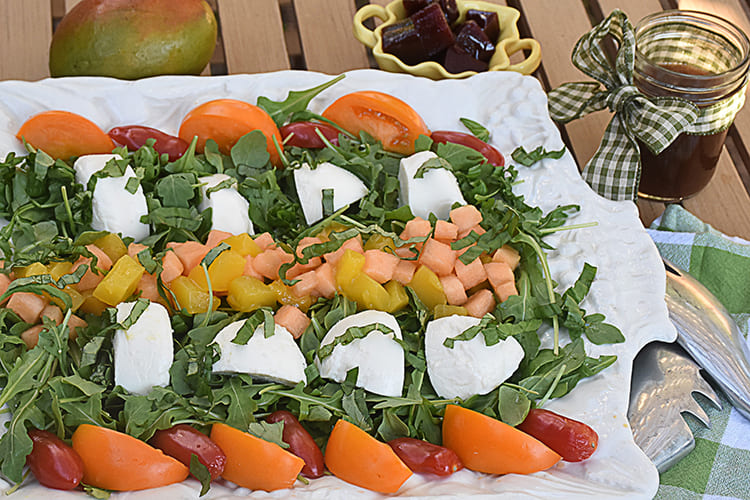 June is National Dairy Month. So let's raise an ice-cold glass of milk to toast Florida's more than 100 dairy farms. And while we could leave it at that, there is so much more to this monthlong focus on dairy awareness. The possibilities are endless because milk is only the beginning of this culinary journey.
Just check out our new campaign "Undeniably Dairy," to see just how easy it is to help yourself to several servings of all things dairy every day.
Every Thursday in June we are exploring how the versatility of dairy products fit into busy healthful, lifestyles with recipes that won't bust the budget. Today's recipe is Burrata Salad with Fresh Mango, Cantaloupe & Heirloom Tomatoes. The summer salad is inspired by Ina Garten, The Barefoot Contessa. But this version takes on a Florida twist with the addition of mangoes and guava.
Burrata looks like fresh mozzarella but gently cut into the center to reveal a luxurious filling that is soft and slightly sweet. It is produced from cow's milk, rennet, and cream. The combination of textures inside and out make it a good ingredient for salads – especially a classic caprese; a topping for bread and pasta. Look for burrata in the deli section of the supermarket.
Burrata Salad with Fresh Mango, Cantaloupe & Heirloom Tomatoes
Yield: 4 servings
Ingredients:
For the salad:
9 ounces baby arugula, about 4 loose handfuls
2 (8-ounce) balls of burrata
2 large ripe Florida mangoes, peeled, pitted and sliced or diced
1 cup diced Florida cantaloupe
12 (2-inch diameter) heirloom tomatoes, halved lengthwise
Olive oil for drizzling
Coarse salt and freshly ground black pepper to taste
16 fresh basil leaves, julienned
For the dressing:
2 tablespoons guava paste
1 tablespoon pomegranate juice
1 tablespoon freshly-squeezed lime juice
1 teaspoon Dijon mustard
Coarse salt and freshly ground black pepper to taste
1/4 cup extra-virgin olive oil
Directions:
For the dressing, combine all the ingredients in the work bowl of a blender or food processor. Pulse until smooth. Adjusting ingredients for desired consistency. Set aside.
For the salad, divide arugula among serving plates. Cut each ball of cheese in half crosswise and place the halves, cut side down, in the center of the arugula. Combine the mangoes, tomatoes and cantaloupe and distribute around the burrata.
Drizzle the salad generously with olive oil and guava vinaigrette. Season with salt and pepper. Top with basil strands and serve.
Time-saver tips:
Make the dressing the day before or use a bottled dressing.
Tightly roll the basil leaves into cylinders then thinly slice to create the julienned strips.
Cut the mango on either side of the pit and score the flesh in squares. Push the fruit inside out and the juicy cubes can be easily cut away.
Dairy and your health:
Here are five way to get all the healthful benefits of dairy while watching calories and fat grams:
Choose fat-free or low-fat milk.
Have fat-free or low-fat yogurt as a snack with fresh seasonal fruit.
Top casseroles, soups, stews, or vegetables with shredded reduced-fat or low-fat cheese.
Top a baked potato with fat-free or low-fat yogurt.
Use fat-free or low-fat milk when making condensed cream soups.
Florida Dairy Fun Facts
The state's more than 100 dairy farms are primarily owned and operated by second and third-generation farmers.
Each Florida dairy cow produces about 6-8 gallons of milk each day and is milked 2-3 times per day.
The average dairy cow weighs 1,400 pounds, which is about the same size of a mature male polar bear.
If you like this...