WATCH: Graveyard Dirt Cups Recipe for Halloween
Happy Halloween dairy friends! This is one of our favorite holidays, mostly because it's an excuse to consume lots of candy and Halloween treats!
We put a spin on one of our favorite Florida Dairy Farmers recipes, Dirt Cups Featuring Brownie Brittle. This recipe is loved by humans of all ages, and very easy to whip up for family and friends on Halloween night!
If you have extra time, follow our recipe for ingredients and step-by-step directions for homemade chocolate pudding. If you are in a rush, just use Hershey's instant chocolate fudge pudding with ice cold milk!
Turn your dirt cups into a goulish graveyard by adding Milano cookies and write "RIP" using a black Wilton Food Writer Pen.
To make Graveyard Dirt Cups as seen in the video/photo above, here is what you will need: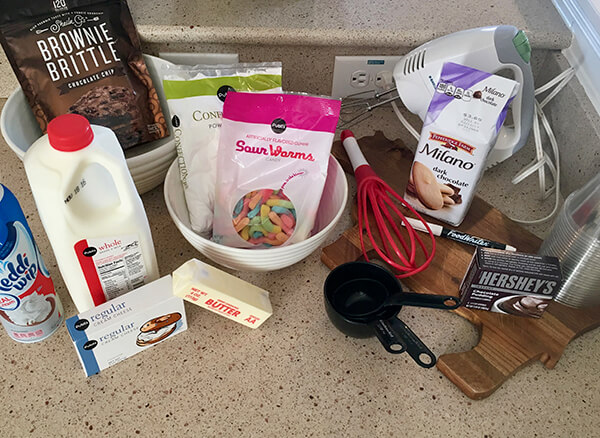 Ingredients:
3 cup whole milk
1 (8 ounce) package cream cheese
1 stick butter
1 (12 ounce) container of Cool Whip
2 bags Brownie Brittle (crushed)
1 cup powdered sugar
1 package of Hershey's Chocolate Fudge Instant Pudding
Candy worms
Milano Cookies
Black Wilton Food Writer Pen
Clear plastic serving cups
Directions:
Mix pudding and milk together, set aside
Crush up Brownie Brittle until it resembles dirt
Mix sugar, cream cheese and butter together
Add sugar mixture to pudding; fold in cool whip
In clear cups, layer Brownie Brittle crumbles & pudding
Decorate with candy worms & cookie tombstones (use food writer pen to write "RIP" on each Milano Cookie)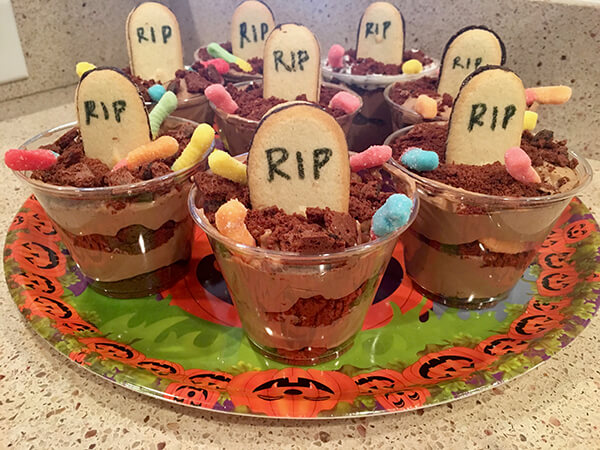 Enjoy & Happy Halloween Everyone!