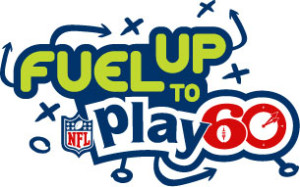 In response to the growing obesity epidemic and declining physical fitness of America's youth, the National Dairy Council (NDC) and the National Football League (NFL), in cooperation with the United States Department of Agriculture, launched a unique in-school nutrition and physical activity program called Fuel Up to Play 60.
Based on youth's input and in line with the 2010 Dietary Guidelines for Americans (DGA), this program encourages the consumption of low-fat or fat-free milk and milk products, fruits, vegetables and whole grains, and achieving at least 60 minutes of physical activity every day. The program is in more than 70,000 schools nationwide – that's two-thirds of all the schools in the U.S. – with the potential to reach more than 36 million children.
Fuel Up to Play 60 combines the excitement of the NFL with challenges and rewards that inspire kids to get active and eat well. Students and schools work together to expand opportunities for physical activity and increase the availability of more kid-appealing, good-tasting, nutrient-rich foods, such as low-fat chocolate milk, yogurt and fruit parfaits, whole-grain pasta and salad bars. For more information on the Fuel Up to Play 60 program and grant opportunities, click here.