Meet a Dairy Farmer: Klaas Reyneveld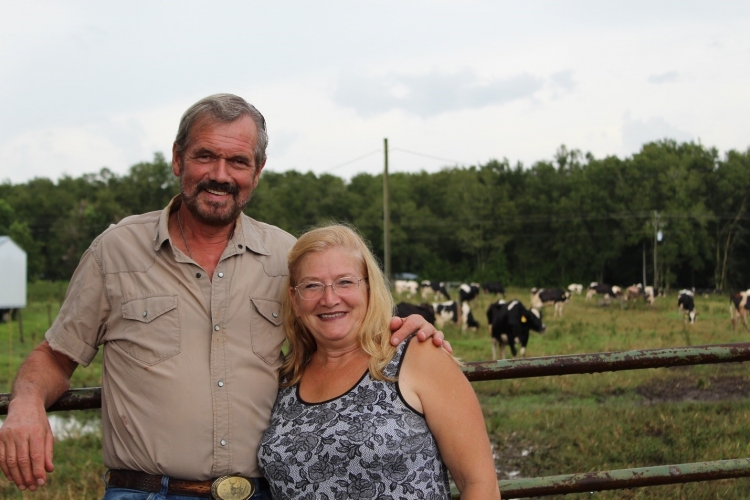 My name is Klaas Reyneveld, and I'm proud to be a Florida dairy farmer. My family and I own and operate Udder Delite Dairy in Suwannee County. I've been a dairy farmer since birth, and I wouldn't have it any other way.
I was born in the Netherlands on a dairy farm and immigrated with my parents to Ontario, Canada to farm when I was young. I bought my first 50-acre farm when I was 21 years old and married my wife Grace when I was 22 and she was 19. Together, we bought a 157-acre dairy farm the following year.
Grace and I lived on that farm for nearly 16 years, and it's where we raised our children. I started to feel like the Canadian Supply Management System was restricting our growth potential, so in 1993 we bought a dairy farm in Cairo, Georgia and eventually milked 320 cows there.
We sold that farm in 1998 and spent a short time leasing a 900-cow dairy in Monticello, Florida until 2003 when we bought our current facility in McAlpin, which was originally built in 1989 by the Norris family.
Today, our dairy sits on 115 acres, and we milk around 250 Holsteins twice a day. We are the epitome of family-operated. I work alongside Grace, our son Patrick (31) and his wife Shannon and their children. Aside from that, we only have one other employee.
My family is so large that Grace and I like to joke that we have two-and-a-half dozen children. In reality, we have two sons and six daughters that are spread out across North America.
Our oldest daughter, Heidi (41), and her husband, John, own a poultry farm in Iowa. Our daughter, Annie (39), and husband, Aart, run a construction company in Ontario, Canada. Our son, Gerard (37), is a registered nurse in the Marines and lives with his wife, Melissa, in Oxford, FL. Our daughter, Nicole (36), and husband, Dennis, run an 800-cow dairy farm in Ontario. Our daughter, Jodi (34), and husband, Scott, run a vegetable farm in Ontario. Danielle (33), is a financial consultant in Tallahassee, and Keri-Lee (29) and husband, Erik, live and work in Lake City. All together, we have 34 grandchildren and 2 more on the way!
There isn't much time outside of dairying and family, but Grace and I are very active in our church where we sing on the Praise Team, and I serve as an elder. I've also served on several industry boards throughout the years. I sat on the Georgia Milk Board from 1996-98, and I'm the current president of the Premier Milk board of directors and have been a member for the past 7 years.