#SOBEWFF 2022 Florida Dairy Farmers Events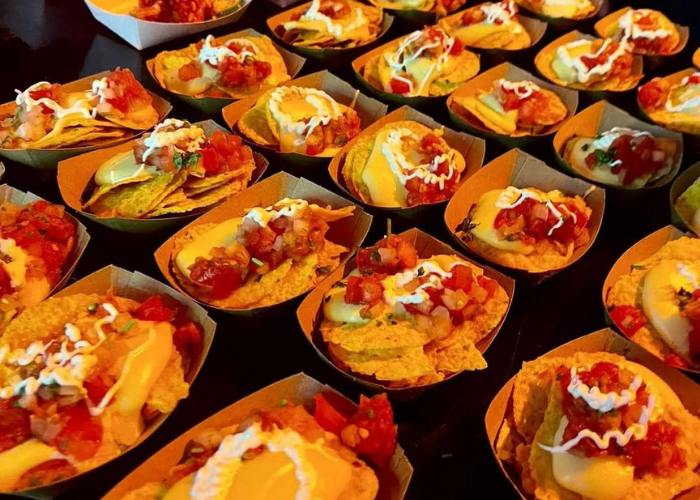 Visit the Florida Dairy Farmers at The Food Network & Cooking Channel South Beach Wine and Food Festival presented by Capital One (SOBEWFF®). Learn more about this star-studded, four-day event that showcases the world's most renowned chefs and culinary personalities, accompanied with nutritious and delicious Florida milk and dairy foods brought to you by the Florida Dairy Farmers.
Taking place February 24-27 in Miami Beach, Florida, all proceeds benefit the Florida International University Chaplin School of Hospitality & Tourism Management.
Come see us at these flavorful events!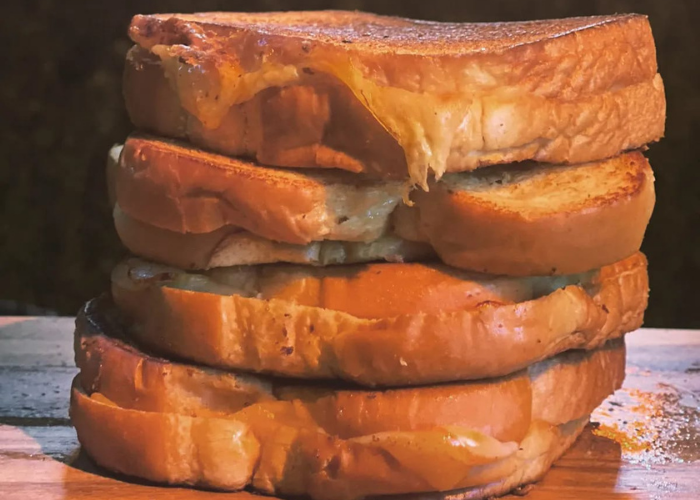 Diners, Drive-Ins, and Dives LIVE Hosted by Guy Fieri
Thursday, February 24th
7:00 PM – 10:00 PM
North Venue, Beachside at Delano
With roadside diners, vintage drive-ins and out-of-the-way "dives," all foodies are welcomed to have a taste of Emmy Award-winning TV host Guy Fieri's travels across America in search of some of the best "greasy spoon" eateries featured on the hit show!
Florida Dairy Farmers will provide grilled cheese featuring Cabot's Vermont Cheddar, Muenster, and American Cheeses on Martin's potato bread.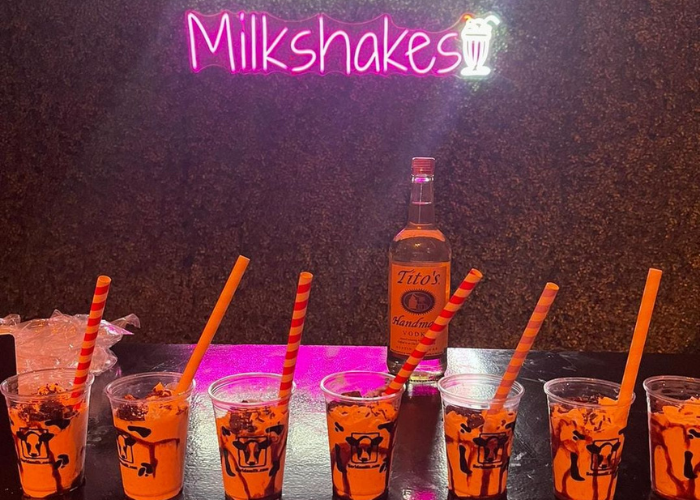 Red Stripe Burger Bash Presented by Schweid & Sons® Hosted by Rachael Ray and Jose Andres
Friday, February 25th
5:00 PM – 10:30 PM
Outdoor North Venue, Beachside at Delano
The beloved Burger Bash is back, this time with two hosts! Businesswoman and TV personality chef Rachael Ray alongside Noble Prize-nominated chef Jose Andres will guide you through the most EPIC burger showdown.
Florida Dairy Farmers will help wash all those burgers down with an Undeniably Delicious MooTito's Milkshake made with fresh Florida milk donated by local dairy farming family Sutton Milk, ice cream from the Ice Cream Club, Tito's Vodka donated by Tito's, and topped with Cabot's whipped cream.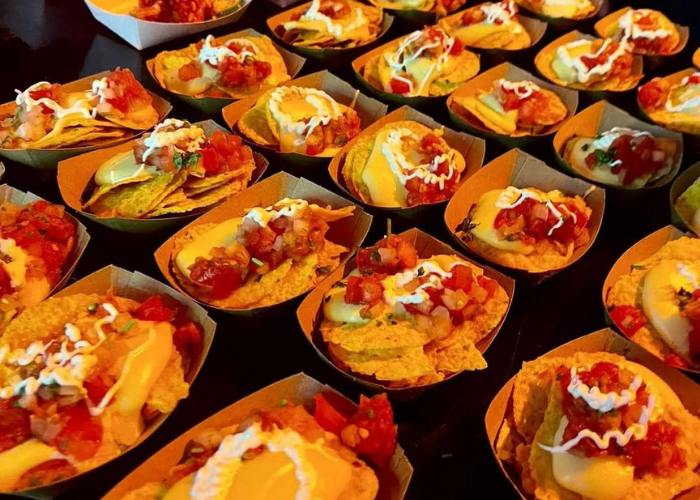 Tacos and Tequila Presented by Tequila Cazadores and Hosted by Aaron Sanchez
Saturday, February 26th
7:30 PM – 10:30 PM
Outdoor North Venue, Beachside at Delano
To celebrate everyone's favorite duo - tacos and tequila - join award-winning chef Aaron Sanchez to preside over this flavorful extravaganza. Sample more than a dozen of America's best tacos created by an all-star cast of tastemakers!
Florida Dairy Farmers will feature a queso dip, ice cream tacos, and elote corn with Chef Rosanna Ovalles and @JuanBiteataTime. Make sure to say "hi" to local Florida dairy farmers Chris and Sutton Rucks, representing their ice cream.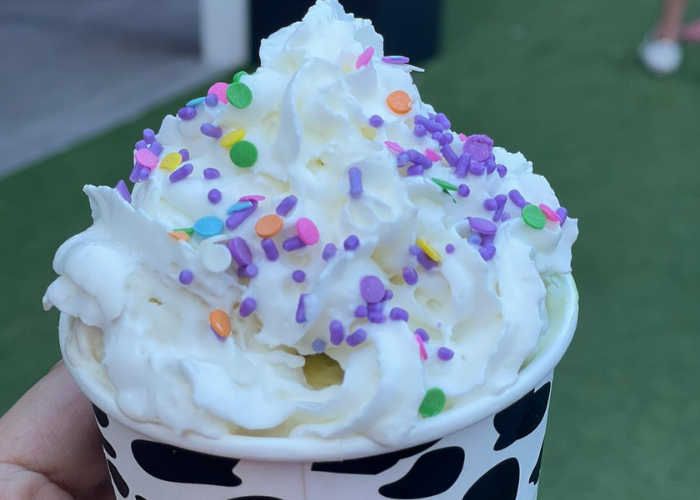 Family Ice Cream Social Hosted by Duff Goldman
Saturday, February 27th
3:00 PM – 5:00 PM
Loews Miami Beach Hotel
SOBE fan-favorite cool family-friendly soiree returns! Foodies of all ages will enjoy this ice cream social, featuring - of course - all kinds of ice cream!
Florida Milk featured a variety of Sutton Milk's Ice cream flavors and Cabot's Whipped Cream. Kids also enjoyed SunnyBell's Arts and Crafts and meeting local Florida dairy farmers, the Rucks family!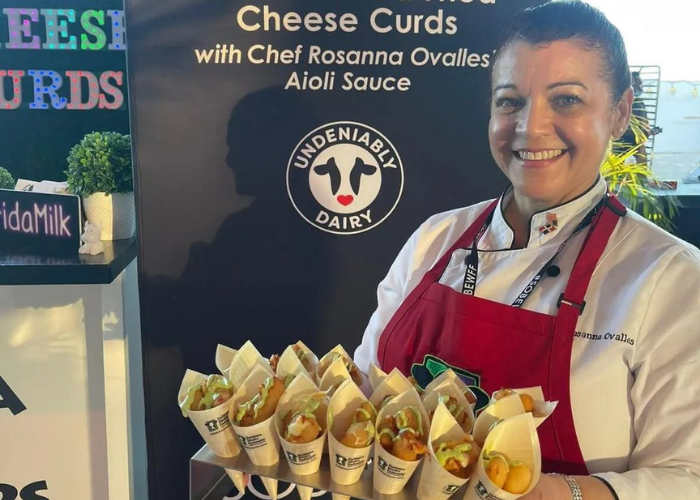 BACARDI Carnival Hosted by Andrew Zimmern
Sunday, February 27th
5:30 PM – 9:00 PM
Outdoor North Venue, Beachside at Delano
SOBEWFF® and BACARDI teamed up to create the ultimate party on the sands of Miami Beach, joined by award-winning TV personality Andrew Zimmern.
If you're going to the carnival, you have to try the fried food. Florida Dairy Farmers went all out and partnered with Wisconsin Cheese and Ellsworth Creamery to bring to Florida Ellsworth's beer battered cheese curds topped with Chef Rosanna Ovalles' aioli sauce.