Chesapeake Utilities Corporation to Develop its First RNG Facility at Full Circle Dairy in Florida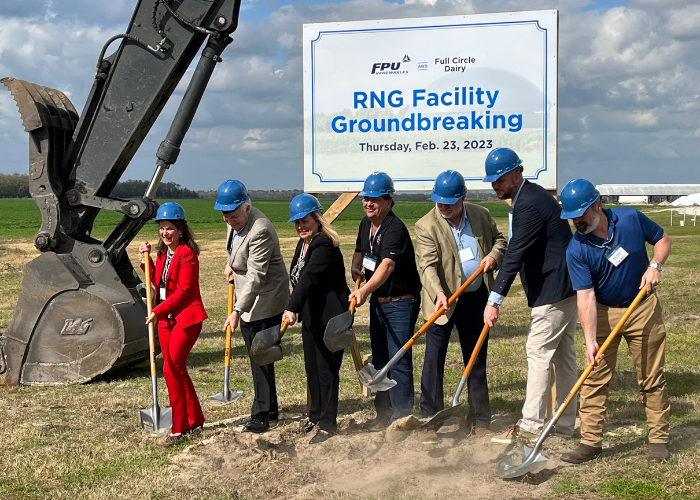 Feb. 21, 2023 - FPU Renewables LLC today announced plans to construct, own and operate a dairy manure renewable natural gas (RNG) facility at Full Circle Dairy in Madison County, Florida. FPU Renewables and its parent, Florida Public Utilities Company, are subsidiaries of Chesapeake Utilities Corporation (NYSE: CPK) (Chesapeake Utilities).
"Chesapeake Utilities is committed to being a leader in the transition to a lower-carbon future," said Jeff Householder, president and CEO. "We continue to look for ways to displace more carbon-intensive fuels, and we're working hard to develop waste-to-energy production facilities, and associated infrastructure, that improve agricultural conditions in Florida and other service areas. Collaborations such as the one with Full Circle Dairy are continuing to move both the energy and agricultural industries toward a more sustainable future."
The project will capture and clean methane from manure generated by cows, producing 100,000 average dekatherms of RNG annually. The project represents a capital investment of $22 million, with the first injection of RNG projected to occur in 2024. Chesapeake Utilities is evaluating further investment opportunities to bring the RNG produced at the facility to market. Additionally, several offtake options for the RNG are under consideration.
Operating and milking cows since 2006, Full Circle Dairy shares Chesapeake Utilities' commitment to sustainability. Today, the dairy recycles manure produced at the farm by using it as fertilizer in the fields that grow feed for the herd. The addition of a digester onsite at the farm advances Full Circle Dairy's commitment by additionally decreasing methane and greenhouse gas emissions, creating an even more sustainable manure management system for the farm, and producing valuable pipeline quality RNG.
The project is estimated to capture and redirect approximately 1,116 metric tons (mt) of methane per year, which is 27,900 mt of carbon dioxide equivalent. Using the EPA greenhouse gas equivalencies calculator, these numbers reflect a minimum greenhouse gas emissions reduction equivalent to 6,012 gasoline-powered passenger vehicles driven for one year and CO2 emissions reduction equivalent to the annual energy consumption of 3,514 homes.
This dairy to RNG facility continues Chesapeake Utilities' acceleration of RNG related investments, beginning with the Noble Road RNG pipeline project in Ohio; the acquisition of Planet Found Energy Development, LLC, a poultry waste to biogas pilot facility in Maryland; and the recent announcement of a RNG injection site in Nassau County, Florida.
About FPU Renewables LLC
FPU Renewables LLC is a full-service renewable waste-to-energy development company dedicated to generating and converting biogas from landfills and dairy, poultry and swine farms into pipeline-quality renewable natural gas (RNG) for use in vehicles, businesses, and homes and by other natural gas consumers. FPU Renewables will drive various aspects of the planning and design phases, and will make sole, minor or major equity investments and provide complete management of RNG development. Chesapeake Utilities is uniquely positioned to offer both partial and full turnkey solutions as part of its comprehensive range of services across the entire RNG value chain.
About Florida Public Utilities
Florida Public Utilities Company (FPU) is a wholly-owned subsidiary of Chesapeake Utilities Corporation. With its Florida operations headquartered in Yulee, Florida, FPU distributes natural gas and propane and provides electric services to customers in markets throughout Florida. For more information, visit www.fpuc.com.
About Chesapeake Utilities Corporation
Chesapeake Utilities Corporation is a diversified energy delivery company, listed on the New York Stock Exchange. Chesapeake Utilities Corporation offers sustainable energy solutions through its natural gas transmission and distribution, electricity generation and distribution, propane gas distribution, mobile compressed natural gas utility services and solutions, and other businesses. For more information, visit www.chpk.com.
SOURCE Chesapeake Utilities Corporation