Nomination / Voting Process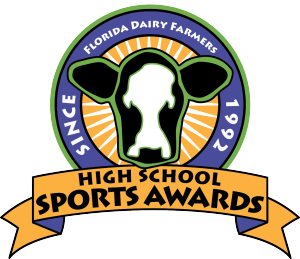 In order to ensure representation of athletes and coaches on a statewide basis, the Florida Dairy Farmers High School Sports Awards program uses a three-step nomination and voting process to select annual Athlete-of-the-Year and Coach-of-the-Year award winners in 30 sports sanctioned and recognized by the Florida High School Athletic Association.
Any coach or athlete who competes for an FHSAA state championship in a sport sanctioned by the FHSAA or plays 75 percent or more of his or her competition against other FHSAA-member schools is eligible to be nominated for a Florida Dairy Farmers High School Sports Award.
Prior to the conclusion of a sport's competitive season, the Florida Athletic Coaches Association (FACA) solicits each of its 24 district chairmen for nominations of top athletes and coaches in each classification. Generally, the district chairmen solicit the other coaches in their district for these nominations during the coaches' meetings that are held prior to the beginning of district championship play. For example, in basketball, each of the district chairmen are asked to nominate a top athlete and coach in each of the eight classifications. Not all districts have schools participating in all of the classifications, but district chairmen are asked to provide nominees (and their statistics) in those classifications that are represented in their district.
In an effort to ensure that deserving athletes are not missed in the nominating process, media representatives from newspapers, radio, TV and online affiliations are also contacted to nominate athletes and coaches from their area.
Once nominations from the FACA district chairmen and media representatives have been returned to the awards program coordinator, a first ballot is created that includes all the nominees in each class. This ballot is sent to the district chairmen and media representatives who are asked to vote for their top three choices in each class for both athletes and coaches.
After the first round of voting is completed, the ballots are tallied and winners in each classification are named. The class winners (both athletes and coaches) are announced to the public in a press release provided to statewide media outlets. These class winners are then placed on a second ballot and another round of voting is conducted to select the overall state athlete-of-the-year and coach-of- the-year for each sport. For example, in boys' and girls' basketball the Class 8A, 7A, 6A, 5A, 4A, 3A, 2A, 1A and Independent winners in the first round of balloting become the finalists for Mr. Basketball and Miss Basketball.
Once the FACA district chairmen and media representatives complete the second round of voting, the ballots are again tallied and the overall winners are announced through a press release that is provided to statewide media.
While the nominating and voting process is identical for many of the sports, a modified nominating process is used for sports where individual performances are combined to determine overall team performances. These sports include swimming, track and field, wrestling, golf and tennis. Each individual state champion in each class is placed on the first ballot and then district chairmen and the media select class winners from this group of nominees. Nominations for top coaches in these sports include the coaches of the teams that finished first, second and third in their respective class at the state championships.
The first and second round of balloting are conducted in the same manner as the other sports to determine both class and overall athlete and coaching award winners. Every athlete and coach who earns recognition as a class winner in his or her sport receives an engraved plaque to commemorate their achievements. These plaques are sent to the athletic director of each winner's school for distribution to the award recipient. In addition, overall winners receive a plaque signifying their selection as the statewide winner in their sport.
Florida Dairy Farmers reserves the right to revoke an individual athlete or coach's award if any of the following circumstances occur:
1. An athlete is convicted of a felony within one calendar year of being named an award recipient.
2. An athlete who was an award recipient was convicted of a felony while still enrolled in high school.
3. An athlete who was an award recipient had been ruled academically ineligible to participate in their sport during the academic year in which they won their award.
4. A coach is convicted of a felony within one calendar year, either before or after, being named an award recipient.