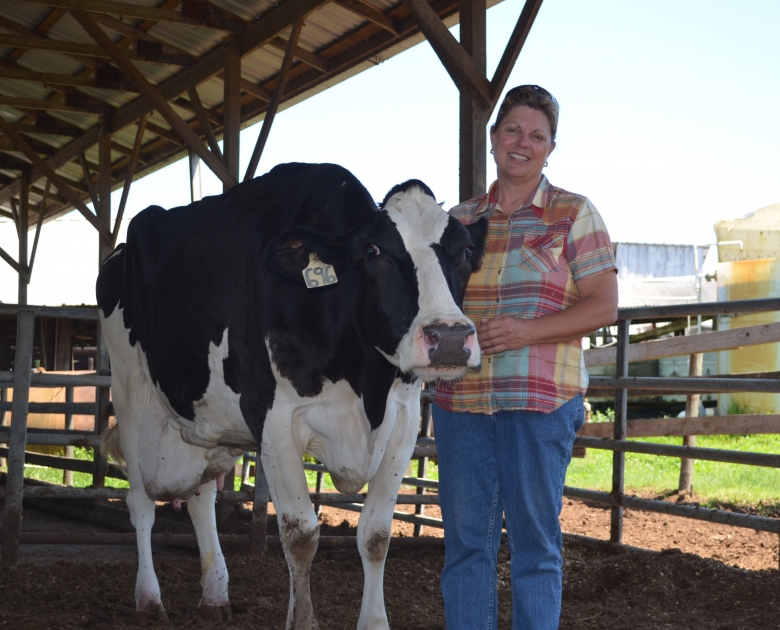 "I am passionate about good nutrition in our diet. Getting the information to the youth to make good nutrition decisions is so very important."
Freda Pirkle-Carey is in the unique position of holding two full-time careers that both are all about promoting health and nutrition. As a fourth-generation dairy farmer, she helps deliver fresh, nutrient-rich milk to consumers across the state. And as a longtime dental hygienist, she relishes the opportunity to spread the good word about how dairy helps build strong teeth and bones.
A native of Plant City, Freda was raised on a dairy farm. That's where the family legacy started in 1954 when her maternal grandparents and great-grandparents bought the Pine Valley Dairy, which ran three operations in Lakeland and Plant City.
Today she and husband Mike own H.C. Dairy Farm in Lakeland, Polk County's lone remaining dairy that was built nearly 100 years ago. They milk 400 cows, mostly Holsteins, twice a day on the 79-acre property that is not too far from residential homes and other development.
As is true with most farms, H.C. Dairy is a family business that has involved all of their children: Erin, Austin, Megan and Brandon.
A member of the Florida Dairy Farmers board of directors, she is involved in directing the promotions group's programs that encourage consumption of all dairy foods.
"I am passionate about good nutrition in our diet," she says. "Getting the information to the youth to make good nutrition decisions is so very important."
She adds, "I strive to bring positive and new information to the public. We are the face of agriculture to everyone we meet. It can start as innocently as me courteously pulling out of the farm drive all the way up to leading farm tours."