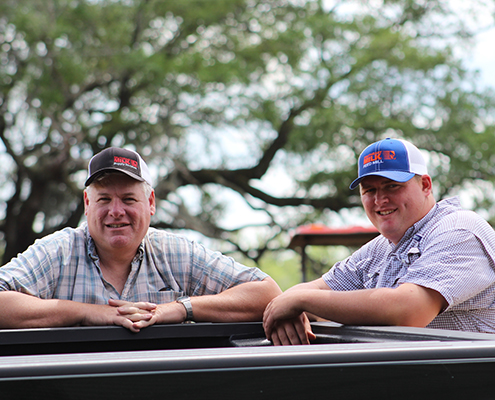 "As the general population moves farther away from agriculture, there are more and more misconceptions of what goes on at a farm. I wish the non-farming public could better understand how we really love our cows and do everything we can for them."
Like most of the dairy farms in Florida, Lussier Dairy is family owned and operated. Matt and Linda Lussier moved to the Alachua County farm nearly a quarter of a century ago, and now their son has joined them full-time with the long-term goal of taking it over from mom and dad.
They didn't start out on a farm, however. Matt Lussier was a certified public accountant in Vermont when he decided to move his wife and young daughter 1,300 miles to Florida to help his parents revive a struggling dairy farm.
That was in 1993, and Lussier was embarking on a new career: Instead of managing the financial health of clients, he found himself managing the bovine health of cows.
As it turned out, he made a smart move.
"It was the right decision to come to Florida," says Lussier. "The dairy industry was very welcoming."
Located in the small community of Hawthorne less than 20 miles east of Gainesville, Lussier Dairy milks about 600 cows twice a day. The herd is 80 percent Holsteins, which are the highest milk-producing cows, and 20 percent Holstein-Jersey cross breeds.
Wife Linda, who handles supply ordering and cattle records, also works off the farm in real estate.
Son Kevin, has recently returned to the farm after graduating from Jacksonville University with a degree in business management. He is in charge of the breeding program and herd record-keeping. He also will start building a herd of his own.
Daughter Samantha, also is following in her dad's footsteps – she earned at master's degree in accounting at the University of Florida and works for a CPA firm in Gainesville.
Both kids grew up on the dairy farm.
"We are very proud of them," Lussier says. "I always told them, 'Farm life is not always fun. But it's never boring.' "
Once in Florida, Lussier quickly established himself as a bona fide dairyman. Starting with fewer than 200 cows, he applied his business acumen to grow his herd to about 650.
Combining the best of large and small dairy operations into a "margin-sensitive system," he created a "low-input dairy that also utilizes free-stall barns."
"It's a grazing mentality without grazing, if you will," he says, adding that he has developed a management model that does a good job of forecasting margins, or profits. For that, he thanks his accounting background and his quick study of the dairy industry.
His hard work has not gone unnoticed. Just a few years after starting the farm, he and Linda received the Florida Outstanding Young Dairy Farmer award in 1999. They also received the Dairy Community Award in 2005.
He is a longtime member of the board for Southeast Milk Inc., the state's largest dairy cooperative, and has served on its pricing committee and research checkoff committee. In addition, he has been a director since 2000 and president since 2005 for Florida Dairy Farmers, the promotion and marketing group that represents more than 100 farms in the state.
As a full-time dairyman for more than 25 years, Lussier knows first-hand the challenges of today's farmer, from the wild swings in the price of milk and feed to the environmental issues and public opinion.
"As the general population moves farther away from agriculture, there are more and more misconceptions of what goes on at a farm," he says. "I wish the non-farming public could better understand how we really love our cows and do everything we can for them."