Summer Squash and Chorizo Cheese Toast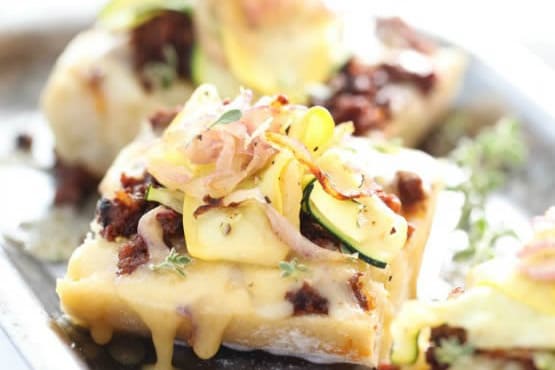 Print Recipe
Ingredients
Preparation
Recipe by Bold with Butter
Prep time: 20 minutes
Yield: 4 servings
Serving Size: 1-2 toasts
Summer Squash and Chorizo Cheese Toast Ingredients:
5 tablespoons butter
1/2 red onion, peeled and shaved into thin slices
8 ounces ground pork chorizo
1 loaf ciabatta bread or french bread baguette
1/2 medium yellow squash, shaved into 2 1/2 to 3-inch lengths
1/2 medium green zucchini, shaved into 2 1/2 to 3-inch lengths
1 tablespoon garlic salt
2 cups aged gouda
kosher salt and freshly ground black pepper
fresh thyme leaves
Summer Squash and Chorizo Cheese Toast Directions:
Melt 1 tablespoon butter in large sauté pan over medium heat. Add shaved red onion and cook 2-3 minutes or until limp and transparent. Transfer to bowl and set aside.
In same pan, cook chorizo until cooked through, breaking up into small pieces. Drain on plate covered with paper towels.
Split ciabatta loaf in half. Spread each half with 2 tablespoons butter (4 tablespoons total), then sprinkle evenly with garlic salt. Top bread evenly with Gouda, then add cooked chorizo. Top with squash shavings and cooked onion. Season with kosher salt and pepper. Broil in oven until cheese melts. Slice into individual pieces and garnish with fresh thyme leaves and serve.