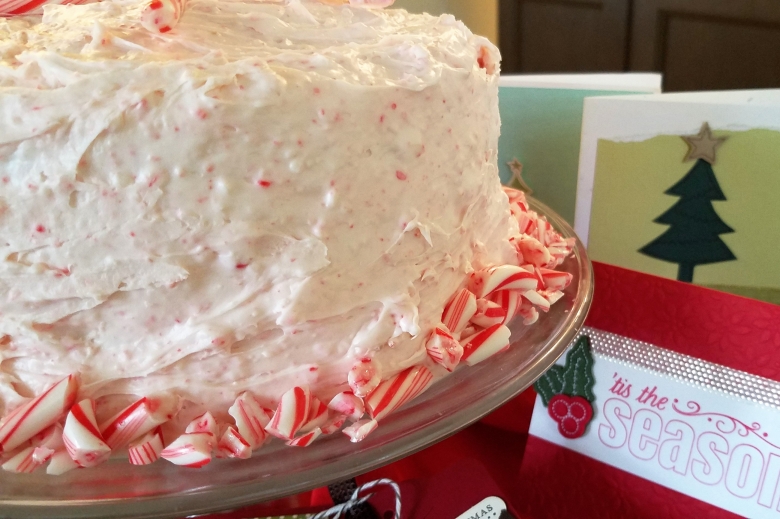 10

25

35

10

Print Recipe
Ingredients
12 tablespoons unsalted butter, softened
1 1/2 cups superfine sugar
2 cups all-purpose flour
2 teaspoons baking powder
1/4 teaspoon salt
6 large egg whites
3/4 cup whole milk
1 teaspoon pure vanilla extract
1 teaspoon peppermint extract
Frosting:
1 1/2 cups butter, softened
4 1/2 cups powdered sugar
1/8 teaspoon salt
1 to 2 tablespoons half-and-half or whole milk, plus additional as needed
1 teaspoon vanilla extract
1 teaspoon peppermint extract
12 to 16 (5 1/4-inch tall) candy canes crushed into a mix of tiny pieces and powdery "dust"
Garnish:
Crushed candy canes to circle the outer rim of the cake (optional)
2 candy canes for the top of the cake (optional)
Preparation
Preheat oven to 350F. Butter and flour two 8- or 9-inch round cake pans. Line bottom of each with parchment or waxed paper. If using parchment, butter the top of the parchment paper.
Beat butter and sugar until light and fluffy, about 5 minutes.
With a whisk combine flour, baking powder, and salt.
Combine egg whites, milk, and vanilla and peppermint extracts. Add 1/3 of the flour mixture to butter mixture then add half of the egg white mixture. Continue to alternate beginning and ending with flour mixture. Scrape bowl and beaters often as you work.
Scrape batter into prepared pans and smooth top with a spatula. Bake 25 to 30 minutes. When done a pick inserted in the center should come out clean. Let cakes rest in pans on a wire rack for 5 minutes. Invert each onto wire racks, remove paper, and cool completely.
For the frosting, beat butter until creamy. With mixer on low, add the powdered sugar and salt alternately with the milk, and extracts. Stop and scrape down sides of bowl often as you work. Fold in crushed candy canes and "dust." Add additional half-and-half or milk if needed to achieve desired consistency. Makes 3 cups frosting.
Place one cake layer, flat side down, on a cake stand. If the layer is too rounded, flatten the surface just a bit by slicing a bit off the top. Generously ice the top to create the middle layer of frosting. Add second cake layer. Lightly ice top and sides to create a "crumb coat" to seal stray crumbs. Refrigerate cake for 30 minutes. Remove from refrigerator and frost the entire cake as desired.
Garnish with crushed and whole candy canes as desired.