Skillet Chicken and Vegetable Alfredo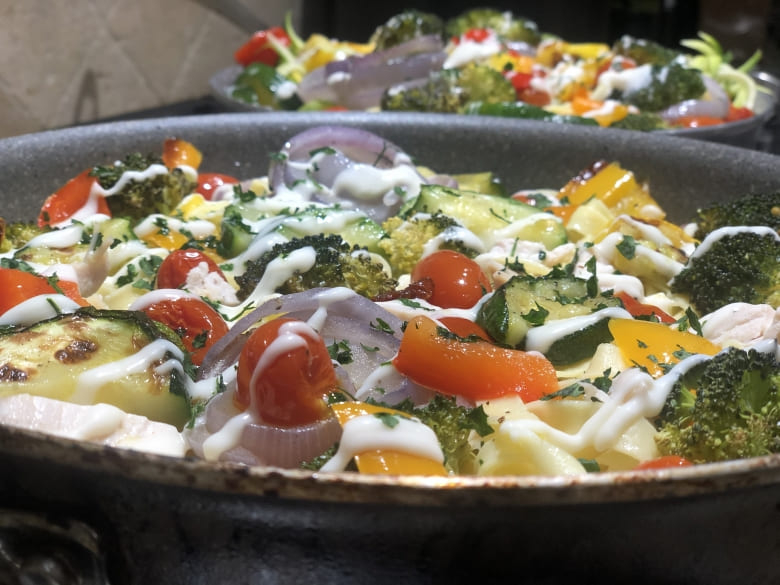 10

30

40

4
Recipe written and created by Alyssa Greenstein, Florida Dairy Farmer's own Senior Manager of Nutrition Affairs!

Print Recipe
Ingredients
4 tbsp. extra-virgin olive oil
2 boneless skinless chicken breasts or precooked chicken
Kosher salt
Freshly ground black pepper
8 - 12 oz. fettuccine
Veggies: up to three cups of spinach, kale, zucchini, cauliflower, carrots, mushrooms, peas, asparagus, grape or cherry tomatoes
1/2 cup butter
2 - 2 1/2 cups whole milk or heavy cream
2 clove garlic, crushed or minced
2 cups freshly grated Parmesan cheese
1/4 cup chopped fresh parsley, set aside small amount) for garnish
Preparation
Cut chicken into thin slices.
Heat oil and cook chicken in skillet over medium-high heat.
Season chicken with salt and pepper and cook until golden. Make sure chicken is cooked throughout.
Once chicken is cooked remove from skillet and set aside for a few minutes. In the same pan, add oil (2 tbsp) and heat vegetables of your choice on medium for 3-4 minutes. Vegetables will not be cooked throughout. Remove and set aside with chicken.
Melt butter in a medium saucepan over medium low heat.
Add cream and simmer for 5 minutes.
Add garlic and cheese and whisk quickly, heating throughout.
Once sauce has thickened remove from heat and stir in pasta, chicken, and vegetables on low heat.
If your sauce is too thick, add a few tablespoons of cream until you achieve your desired sauce thickness and/or add more pasta and vegetables if you desire.
Notes:
This recipe can be adapted for time, variety, and lactose intolerance.
Substitute heavy cream or half-and-half for the milk for a super rich taste. Use lactose free milk in place of regular milk if you have lactose intolerance.
Substitute pasta for any kind of noodle fettuccine is a fine, and angel hair or spaghetti, Ziti, rigatoni, tortellini fusilli, farfelle, or penne are all fair game! Just make sure whatever pasta you choose can be completely submerged in your cooking liquid.
Vegggies? Yes Please! Stir in big handfuls of spinach, Kale mushrooms, zucchini, onions, broccoli, spinach, squash, or grape tomatoes after the pasta is cooked. You can also substitute zucchini (zoodles) for the pasta.
Looking for crunch? On low heat, cook Panko bread crumbs in a skillet with butter and sprinkle over pasta right before serving.
Short on time? Use store bought Alfredo sauce, pesto, cooked chicken, precut or frozen veggies to speed up and/or simplify your cooking time.