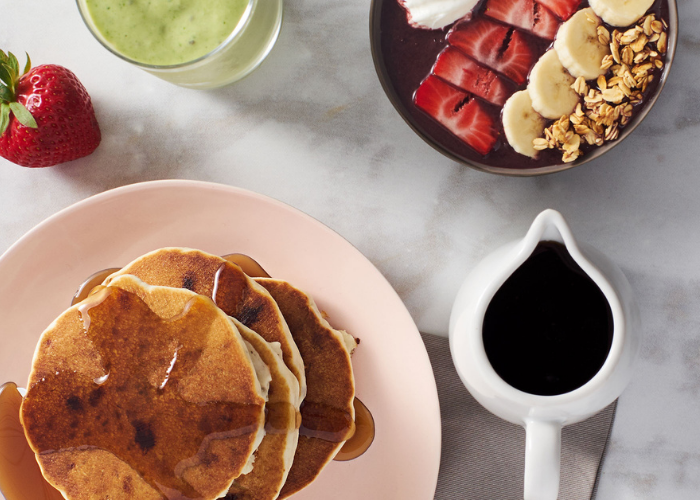 20

5

25

3
Recipe by Roosevelt Elementary.

Print Recipe
Ingredients
Pancakes
1 C milk
2 tsp safflower oil
1 large egg
1 C gluten free pancake mix
2 medium bananas
1/3 C Ghiradelli white chips
1/3 C maple syrup
2 large star fruit
Acai Bowl
1/3 C strawberries or blueberries
1/3 C bananas
½ C granola
1 C Greek vanilla yogurt
2- 100 g Acai pouches
1/3 C tart cherry juice
Green Smoothie
1/3 C Greek yogurt
1 C milk
1 C spinach
½ C mango, diced and frozen
½ C pineapple, diced and frozen
1 tsp organic chia seeds
1 medium McIntosh apple
1 tsp organic honey
Preparation
Pancakes
Mix milk, egg, safflower oil, pancake mix, bananas and white Ghiradelli chips in bowl until smooth.
Spoon out batter onto hot griddle. Cook 3-5 minutes and flip when golden brown.
Remove and use cookie cutters to form footballs, helmets and stars.
Cut star fruit into 1/4-inch slices to use for garnish.
Acai Bowl
Place acai pouch into mixer with tart cherry juice. Blend.
Line coconut bowl with organic granola. Add Greek yogurt after filling bowl with acai mixture.
Top with fresh strawberries, blueberries and/or bananas.
Keep in freezer until serving.
Green Smoothie
Pour all smoothie ingredients in blender. Blend until smooth. Add a straw & enjoy!
Serving Instructions: Place pancakes on plate along with maple syrup in center. Write "BOC" with yogurt. Garnish with star fruit. Set acai bowl on one side and smoothie bowl on opposite.