Eggnog French Toast Muffins with Candied Bacon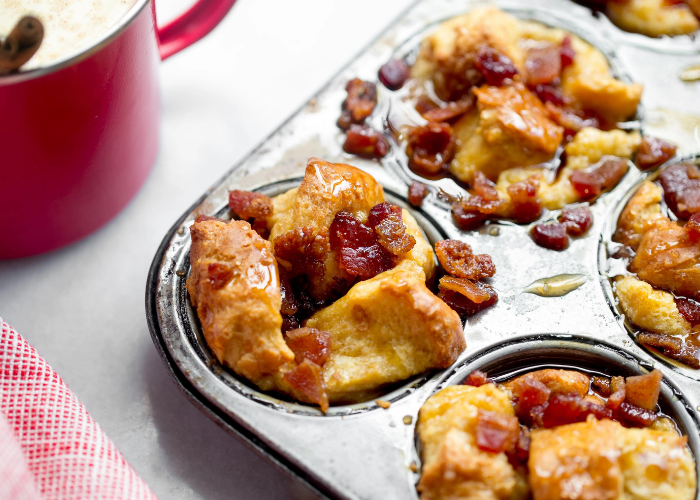 10

40

50

12

Print Recipe
Ingredients
Candied Bacon:
1/4 cup packed brown sugar

1/2 tsp cinnamon

4 slices of any Smithfield Bacon
Muffins:
1 pound French bread or brioche, sliced into 1" cubes

4 large eggs

1 cup eggnog

1/2 cup milk

2 tbsp packed brown sugar

1 tsp ground cinnamon

1/2 tsp kosher salt

maple syrup (optional)

powdered sugar (optional)
Preparation
Candied bacon:
Preheat the oven to 350°F. Line a rimmed baking sheet with foil and set a wire rack on top. Spray the wire rack with cooking spray.

Using a fork, mix the sugar and cinnamon on a small plate. Press each slice of bacon into the sugar mixture, coating both sides. Transfer coated bacon to the rack.

Bake until the bacon appears to be caramelized and somewhat crispy, about 15-20 minutes, maybe a bit longer if you have thicker bacon. Remove from the oven and allow bacon to cool completely before chopping it into small pieces.
Muffins:
While the bacon cooks in the oven, prepare the muffin mixture.

Lightly grease a 12-cup muffin tin with cooking spray. In a large mixing bowl, whisk the eggs, eggnog, milk, brown sugar, cinnamon, and salt until fully incorporated. Add the bread and, using your hands, gently mix until all of the bread is evenly coated and most of the egg mixture has been absorbed.

Portion about 1/3 cup of bread mixture into each muffin cup and sprinkle with sugar, if using.

Place into a 350°F oven. After 15 minutes, sprinkle each muffin with chopped, candied bacon and return the pan to the oven for another 5-7 minutes, or until all of the liquid has set.

Allow muffins to cool for a few minutes for serving. Top with maple syrup and/or powdered sugar if desired.

Pair with an 8-ounce glass of real milk and enjoy!