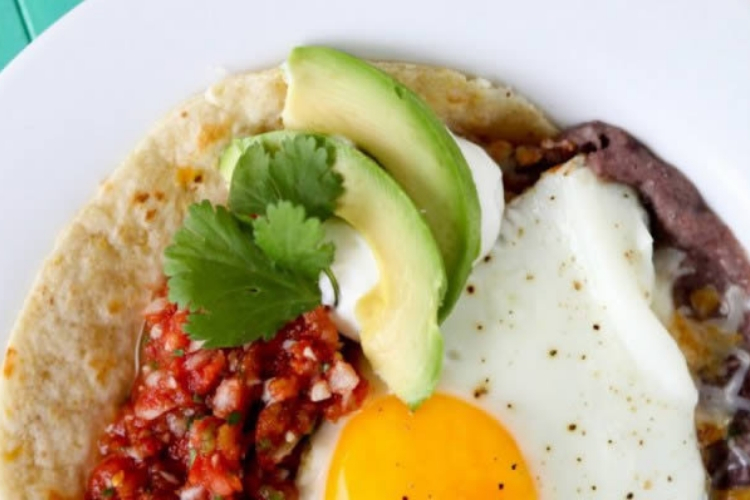 25

20

45

6

Print Recipe
Ingredients
3 cups cooked black beans, divided (or 2 15-oz. cans, drained and rinsed)
Juice of 1 lime
3/4 teaspoon ground cumin
1/2 teaspoon cayenne pepper
1/2 teaspoon kosher salt
2-3 tablespoons chicken or vegetable broth (optional)
2-3 tablespoons butter, divided
6 (6-inch) corn tortillas
6 large eggs
To serve:
Shredded cheese, such as Pepper Jack, White Cheddar or Monterey Jack
Fresh salsa (about 1 1/2 cups)
Sour cream
Hot sauce
Sliced avocado Cilantro, for garnish
Preparation
In the bowl of a food processor, combine 1 1/2 cups black beans, lime juice, cumin, cayenne, and salt. Process until smooth. If necessary, add broth 1 tablespoon at a time to achieve an even consistency. Transfer the mixture to a bowl or saucepan and mix in the remaining 1 1/2 cups of beans. Set aside.
In a heavy skillet (I prefer cast iron), melt 1/2 tablespoon of the butter over high heat. One at a time, add the first three tortillas to the skillet, flipping once, until slightly charred on both sides. Transfer to a plate. Melt an additional ½ tablespoon of butter and brown the remaining tortillas. Set aside.
In a large non-stick skillet, melt the remaining 1 tablespoon of butter over medium heat. Gently crack eggs into the pan. Season with salt and pepper and let cook until the white is fully cooked through but the yolk is still soft. (Cook eggs in batches if necessary, using additional butter as needed.) Meanwhile, heat the bean mixture until warmed through either in the microwave or on the stove.
Place each tortilla on a plate. Spoon some of the bean mixture over the top and sprinkle with shredded cheese. Top each tortilla with a cooked egg. Top with salsa, sour cream, hot sauce, and avocado as desired. Garnish with cilantro.