Air Fryer Cheese & Guava Quesitos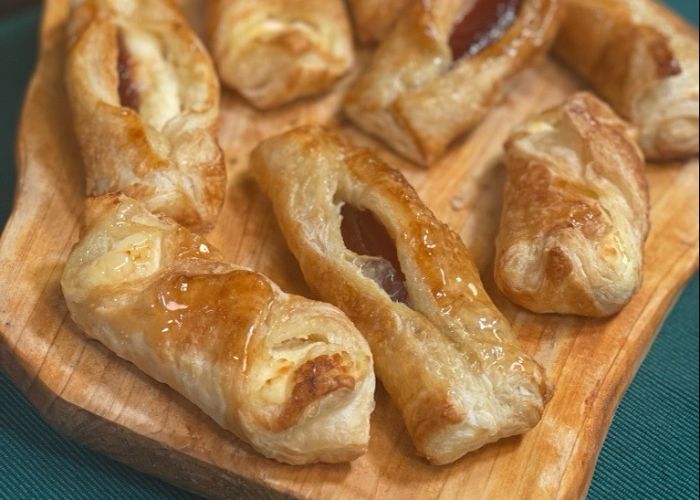 20

12

32

9

Print Recipe
Ingredients
Quesitos Cheese
1 package of puff pastry sheets, thawed (17.3 oz)
8 ounces cream cheese
½ block of guava paste (optional)
½ cup powdered sugar
1/4 cup granulated sugar
Egg Wash
1 large egg
1 tbsp cold water
Honey Glaze (optional)
1/2 cup honey
2 tbsp cold water
Preparation
Preheat air fryer to 400°F for about 5 minutes
Prepare the egg wash in a small bowl, whisk together the egg and water, set aside
Prepare the optional glaze by combining the honey and water, bring to a simmer in a pan for about a minute and set aside.
Place puff pastry on a lightly floured surface and cut the sheets into 9 squares and further spread out with a roller. Cut each square in half after rolling.
Take a slice about 2 tbsp. of cream cheese, dip in powdered sugar, place in the middle of the pastry dough diagonally. Add optional guava paste about 1 tbsp.
Brush a thin layer of egg wash onto the short sides of the puff pastry and join the two edges together, then fold the other ends over the top of cream cheese.
Brush the top with egg wash and sprinkle with granulated sugar.
Place in air fryer about an inch apart and bake at 400°F for about 10 – 12 minutes or until they are a golden color and look dry, not glossy.
Let them cool for a few minutes on a wire rack then brush a thin layer of the honey glaze and or dust with powdered sugar and serve warm.
Enjoy with a tall glass of Florida milk or a warm cup of coffee.
Notes: If you prefer to bake them in a conventional oven, bake for 15-20 minutes at 400°F, or until golden color and look dry, not glossy. Make some with just cheese or guava and some with both.