Chicken Enchiladas with Salsa and Homemade Ice Cream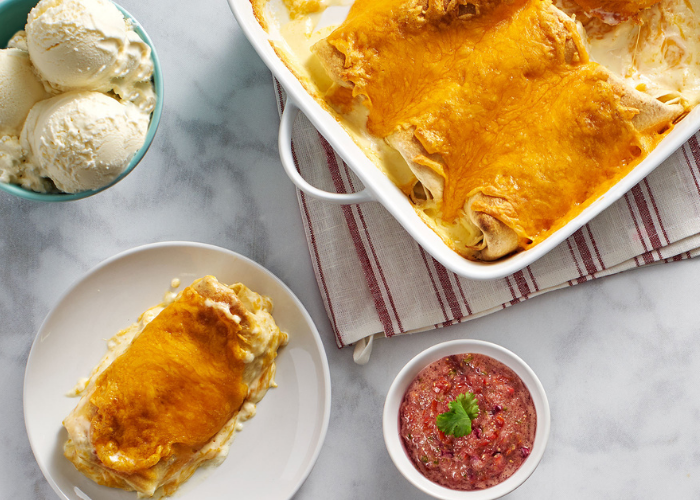 15

40

55

8

Print Recipe
Ingredients
Enchiladas
1.5-2 lbs chicken, cubed
2 T olive oil
1 packet taco seasoning
4.5 oz can mild chilis
2-16 oz blocks cream cheese
4 C shredded cheddar cheese, (divided 2C & 2C)
2-3/4 C heavy whipping cream, (divided 2C & 3/4C)
8-10 tortillas
Garnish tortilla chips
Salsa
2 C cherry tomatoes, diced
¾ C red onion
2 jalapenos
3 garlic cloves
¼ C cilantro
1 lime
2 tsp salt
Ice Cream
2 C heavy whipping cream
1 C whole milk
½ C sugar
1 tsp vanilla
Preparation
Enchiladas
Preheat the oven to 425F.
Cut chicken into small cubes. Heat olive oil in a pan and add chicken. Cook chicken until done.
Sprinkle with taco seasoning and mix well. Add 1 can of chilis to chicken and stir. Remove from pan and place in a bowl.
Use same pan chicken was cooked in and add cream cheese, shredded cheddar cheese and heavy whipping cream. Stir until melted. Once melted, place in a bowl with chicken and mix well.
Place tortilla on table and place one scoop of chicken and cheese mixture in the middle of the tortilla. Fold ends of the tortilla and roll the tortilla. Place seam down on 9x13 pan. Repeat until all the tortillas have been used.
Pour 2 C heavy whipping cream over enchiladas. Place pan in the oven and bake for 20 minutes. Remove from the oven and sprinkle with 2 C shredded cheese. Place back in oven until cheese is melted.
Salsa
Cut cherry tomatoes in half, dice onions, slice jalapenos (remove seeds), mince garlic, and chop cilantro.
Place ingredients in blender and blend well. Once blended, squeeze lime into salsa. Add salt and mix well.
Ice Cream
Combine all ice cream ingredients and mix with a whisk. Pour into an ice cream maker and turn on for 20 minutes.
Serving Instructions: Place enchiladas on plate and garnish with salsa. Serve with a cold glass of milk. Finish meal with homemade ice cream.