Raspberry Tres Leches Cake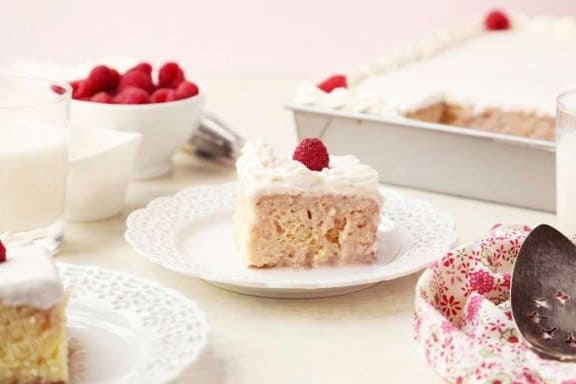 20

60

80

16

Print Recipe
Ingredients
For the Cake:
1 1/2 cups all-purpose flour
1 teaspoon baking powder
1/2 teaspoon salt
1/2 cup (1 stick) unsalted butter, room temperature
1 cup granulated sugar
5 large eggs
1 teaspoon vanilla extract
1 teaspoon almond extract
2 cups whole milk
1 (14-ounce) can sweetened condensed milk
1 (12 fluid ounce) can evaporated milk
2 pints fresh raspberries (or 12-ounce bag frozen raspberries, thawed)
For the Topping:
1 1/2 cups heavy whipping cream
1/2 cup powdered sugar
1 teaspoon vanilla extract
1/4 cup fresh raspberries, for garnish or sprinkles
Preparation
For the Cake:
Preheat oven to 350°F. Butter and flour a 9x13-inch rectangle baking pan and set aside.
In medium bowl, combine or sift together flour, baking powder and salt.
In bowl of stand mixer, cream together butter and granulated sugar until light and fluffy, about 5 minutes. Add eggs, one at a time, mixing well after each addition. Stir in vanilla and almond extracts.
Add flour mixture and stir until just incorporated. Pour batter into prepared pan and give it a couple taps on counter to dislodge any air bubbles. Bake until golden brown and a toothpick inserted in middle comes out clean, about 30 minutes. Remove from oven and let cool completely. Poke cake all throughout the top with wooden skewer.
Blend raspberries in blender until smooth. Pass through fine mesh sieve to remove the seeds. In large measuring cup, whisk together milk, sweetened condensed milk, evaporated milk and puréed raspberries until evenly incorporated. Pour milk mixture over top of the cooled cake. Cover with plastic wrap and chill in refrigerator at least 1 hour. This will give the cake a chance to soak up the liquid.
For the Topping:
In bowl of stand mixer, whip heavy cream with powdered sugar and vanilla extract until soft peaks form. Reserving 1/4 of whipped cream, pour rest of mixture on top of cake and spread out evenly with offset spatula. Fill pastry bag with remaining whipped cream. Fit the pastry bag with start tip and pipe decorative border along edge of cake. Garnish with fresh berries or sprinkles. Cut and serve.
Any leftovers can be stored in the fridge, covered, for about 3 days.