Spice Cake with Salted Caramel Icing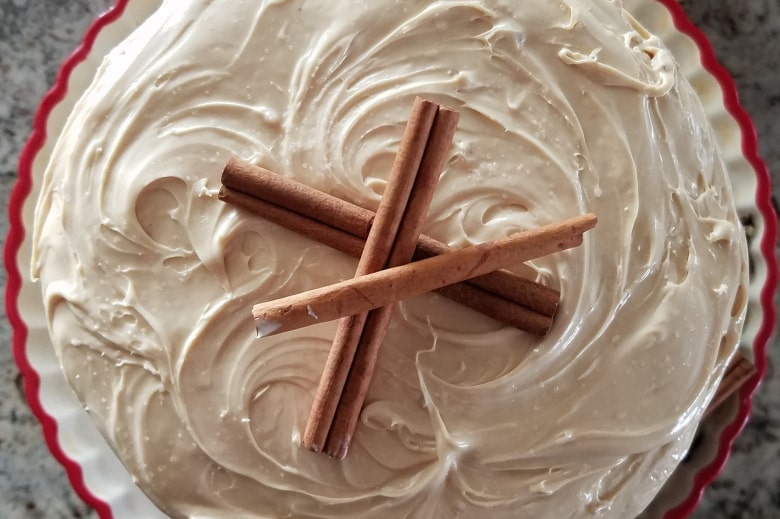 20

25

45

10

Print Recipe
Ingredients
Non-stick spray (or butter) and flour for preparing pans
2 cups flour
2 tablespoons cornstarch
1 tablespoon baking powder
1/2 teaspoon salt
2 tablespoons ground cinnamon, preferably Saigon cinnamon
1 tablespoon ground ginger
1 teaspoon ground allspice
1 teaspoon freshly grated nutmeg
1 cup butter, softened
2 cups firmly-packed brown sugar
3 large eggs
1 tablespoon spiced rum
1 cup whole milk
Icing:
12 ounces cream cheese, softened
3/4 cup butter, softened
1/3 cup salted caramel sauce (see note)
1 1/2 teaspoons spiced rum
1/4 teaspoon finely milled pink sea salt, or taste
2 cups powdered sugar
Preparation
Preheat oven to 350F. Grease and flour 2 (9-inch) round cake pans.
Whisk the flour, cornstarch, baking powder, salt and spices.
With an electric mixer, beat butter and brown sugar in large bowl on medium until light and fluffy. Beat in eggs, one at a time. Add rum. Gradually beat in flour mixture alternately with milk on low speed until just blended. Do not overbeat. Pour batter into prepared pans.
Bake 30 to 35 minutes or until pick inserted in center comes out clean. Cool in pan 10 minutes. Remove from pans; cool completely on wire rack.
For the icing, using an electric mixer, beat cream cheese and softened butter on medium-high. Beat in 1/3 cup caramel sauce and the rum. On low speed, beat in powdered sugar gradually until smooth and creamy. Frost cake as desired.
Recipe note: Look for caramel sauce in the ice cream topping section of the supermarket.