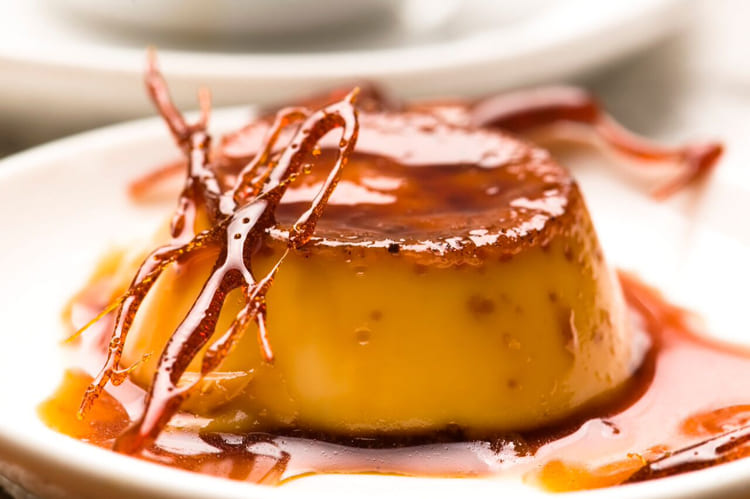 20+cooling

40

60+cooling

8

Print Recipe
Ingredients
Caramel
1 cup granulated sugar
2 tablespoons water
Flan
3/4 cup granulated sugar
1-1/4 cup of lactose-free milk
1 tablespoon vanilla extract
1 tablespoon Whiskey
1 (15-ounce) can of pumpkin puree (not the pumpkin pie mixture)
1-1 / 2 tablespoons cinnamon
1/2 teaspoon ground ginger
1/4 tablespoon of cayenne pepper
1/4 tablespoon ground nutmeg
6 eggs
Preparation
Set a shelf in the center of the oven and preheat the oven to 350 °. Boil 1 liter of water. Prepare 8 greased molds (4 to 6 ounces) in a large baking pan.
Caramel: Mix the sugar and water in a small saucepan. Bring to a boil over medium-high heat, stirring with a fork until the sugar dissolves, about 3 minutes. Stop stirring and let the sugar continue cooking until it turns dark brown, about 4 minutes. Remove from the heat and carefully divide the hot caramel between the 8 prepared molds. Allow to cool.
Flan: Add the 6 tablespoons sugar, lactose-free milk, vanilla, and whiskey in a 1-quart saucepan. Bring to a boil over medium high heat, then remove. In a small container, mix remaining sugar with cinnamon, ginger, pepper, and nutmeg. In a container, beat the eggs. Add the sugar mixture and whisk until well mixed with the eggs, then add the pumpkin puree until well blended. Add the hot milk mixture gradually, beating constantly, until well mixed. Remove the foam from the surface.
Bake: Carefully pour the uniform mixture into the individual molds. Pull the oven rack in half and place the bowl on the rack. Pour hot water into the large baking pan until it reaches half of the 8 molds (Mary's bath). Gently slide the grill into the oven and bake about 25 to 30 minutes or until the flans have the center a little wobbly. Carefully remove the bowl from the oven and place it on a cutting board. Let the custards rest in molds for 5 minutes, then remove and place in the refrigerator until they are cold, at least 2 hours.
Serving: Let the flans rest at room temperature for 10 to 15 minutes. Dip the bottom of each mold briefly into a bowl of warm water to warm the caramel slightly. Invert the puddings on dessert plates, slap the bottom to release the custard and carefully lift the molds. The caramel should be squeezed through the surface of the custard.