Orange Cake with White Chocolate Frosting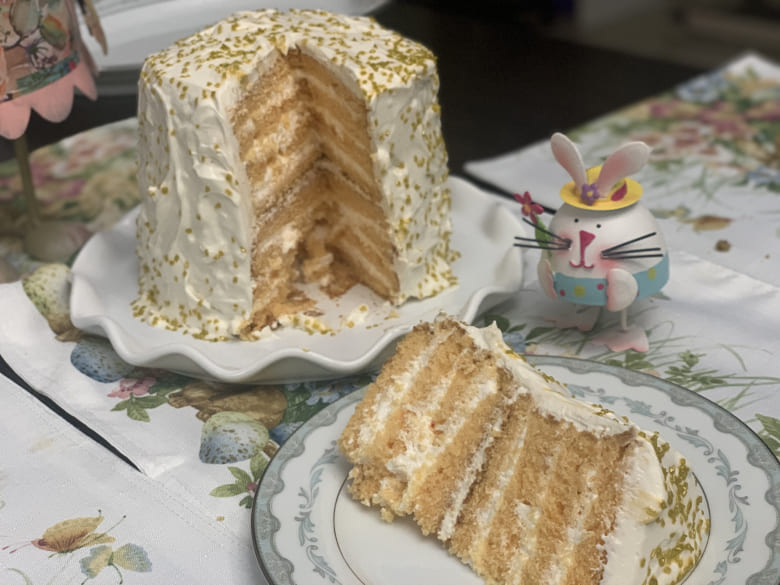 30

30

60

10
Recipe written and created by Florida Dairy Farmer's Diahann Smith.

Print Recipe
Ingredients
1 box orange cake mix
1 cup orange juice
3 eggs
1/3 cup oil
2 boxes white chocolate pudding (3.5 oz each)
2 cups milk
1 oz Grand Marnier*
1 8 oz container of Cool Whip – thawed in the refrigerator
Optional: zest of one orange
*If you don't have grand Marnier you can use 1 tsp orange flavored extract
Preparation
Preheat oven to 350°F
Spay 2 or 4 round cake pans with non-sticking spray for baking.
With an electric mixer, mix the cake mix, orange juice, eggs and oil at low speed for 30 seconds and then for 2 minutes at medium speed.
Pour the cake batter evenly into your cake pans. Bake according to box directions.
Cool in a wire rack before inverting. Then allow to cool completely before frosting or frosting will melt.
Whisk milk and pudding mix until the pudding begins to get thick. Add the Grand Marnier and mix. Then fold the Cool Whip ¼ of the container at a time. Add the orange zest at this time if you would like. Don't mix, fold like you are adding air to make it light and fluffy. Place the frosting in the fridge to set for about an hour.
When the cake has cooled completely, remove the dome of the cakes so they are leveled with a serrated knife. The split in half the cakes so you have more layers.
Place a tbsp. of frosting at the bottom of your plate to hold the cake in place. Spread a big dollop of frosting between the layers making sure it covers all the surface of the cake. Then add a thin frosting layer to the outside of the cake (crumb coat) and place in the fridge for about an hour.
Finish the cake with a thick layer of frosting and decorate with sprinkles, orange slice or strawberries.
Keep refrigerated.