Cajun Nachos With Sausage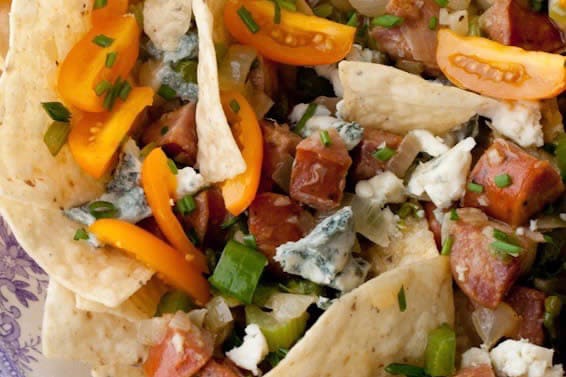 10

15

25

8

Print Recipe
Ingredients
8 ounces tortilla chips

6 tablespoon unsalted butter

12 ounces Andouille sausage, chopped into bite sized pieces

1 1/2 cups chopped yellow onions

1 cup chopped green pepper

3/4 cup chopped celery

1/4 cup chopped cubanelle pepper

1 tablespoon chopped garlic

1/4 teaspoon thyme

1/4 teaspoon salt

1/8 teaspoon coarse ground black pepper

1/3 cup chicken stock

1 cup yellow grape tomatoes, quartered

1/2 cup chopped scallions, white and green

6 ounces Blue cheese, crumbled

2 tablespoon fresh snipped chives

Prepared salsa, for serving
Preparation
Arrange chips on a large platter. Set aside.
In sauté pan, melt butter and add andouille. Cook over medium high heat, stirring until sausage is warmed through and beginning to form a crust. Add the onions, green pepper, celery, cubanelles, garlic, thyme, salt, and pepper. Reduce heat to medium and cook for 5 minutes, stirring frequently. Add chicken stock. Stir and reduce heat to medium low and simmer for 5 minutes. Remove from heat and reserve.
To assemble the nachos, spoon the Andouille/pepper mixture over the tortilla chips. Top with quartered yellow tomatoes. Sprinkle Blue cheese crumbles over tomatoes. Top with chives and serve with your favorite salsa.