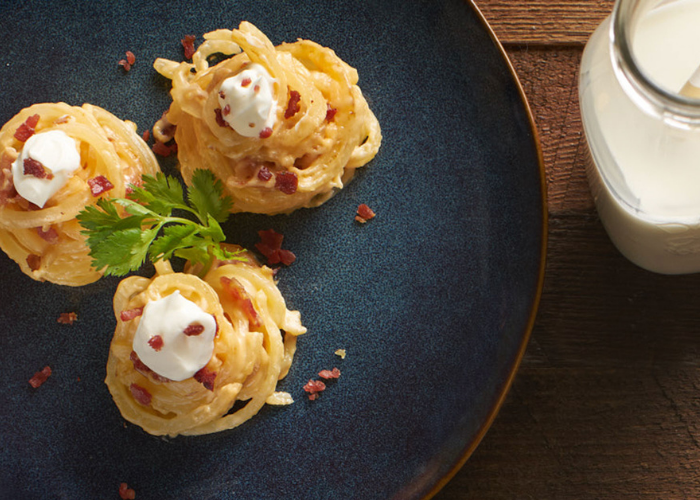 20

35

55

6-8
Recipe by Sunridge Middle School.

Print Recipe
Ingredients
2 medium potatoes
4 T butter
3 T flour
2 C milk
4 oz cream cheese
8 oz cheddar cheese, shredded
1 tsp salt
3 slices bacon, cooked and crumbled
2 T cilantro, finely chopped
6 tsp sour cream
Preparation
To prepare the potato noodles, peel the potatoes, and use a spiralizer to create long noodles. In a large skillet on medium heat, melt 2 T of butter, then add the potato noodles.
Sauté for 10 minutes or until the noodles become soft. Use tongs to turn over frequently.
To prepare the cheesy sauce, heat a separate skillet on medium heat. Melt 2 T butter, and stir in 3 T flour. Cook about 1 minute until bubbling.
Slowly stir in milk. Keep stirring constantly, allowing the mixture to thicken. Add cream cheese, stirring until it melts.
Add shredded cheddar cheese, and stir until melted. Stir in salt, bacon crumbles and cilantro.
Pour cheese sauce over the potato noodles. Stir to combine then transfer to a glass casserole dish. Bake at 350°F for 20 minutes.
Serving Instructions: Once baked, use a fork to wind up potato noodle swirls to make cheesy potato "tornadoes". Serve each "tornado" with care on a plate in a delicate nest. Top with a dollop of sour cream, bacon and a sprig of cilantro.