Alfajores Cookies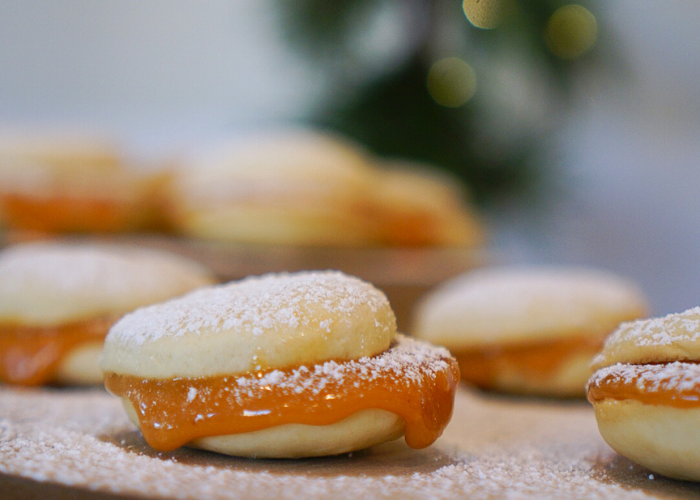 20

80

100

48
Recipe by Heather McPherson. Photo by Maria of
foodie.girly
.

Print Recipe
Ingredients
Dulce de leche:
4 cups milk
2 cups sugar
1/4 teaspoon baking soda
Pinch cinnamon
Cookies:
1 tablespoon brandy
1 teaspoon freshly grated lemon zest
2 teaspoons pure vanilla extract
1 cup all-purpose flour
1 cup plus 1 tablespoon cornstarch
1 teaspoon baking powder
1/4 teaspoon baking soda
1/2 teaspoon fine sea salt
1/2 cup granulated sugar
1 stick plus 2 tablespoons unsalted butter, at room temperature
2 large egg yolks
Preparation
For the dulce de leche, combine all ingredients in large heavy saucepan. Cook over medium heat, without stirring, until mixture boils, 15-20 minutes. Briefly remove from heat. Reduce heat to low. Cook, stirring frequently, until mixture becomes caramel color and thickens enough to see bottom of pan when stirring, 45-60 minutes. Cool to room temperature or refrigerate covered. Makes about 2 cups.

For the cookies, mix brandy, lemon zest and 1 teaspoon vanilla. Set aside. In another bowl, whisk flour, cornstarch, baking powder, baking soda and salt to evenly distribute ingredients. With a mixer, beat sugar and butter until light and fluffy. Add yolks and mix to combine, then add brandy mixture and beat until just combined. Add flour mixture, and mix on low speed until the dough just comes together. Divide the dough in half and roll each piece into a log about 1 1/2 inches thick. Wrap in plastic and chill until firm, at least 3 hours.

Heat oven to 350F. Line baking pans with parchment paper.

Slice dough into 1/8-inch rounds. Place on baking pans. Bake 7-10 minutes, or until edges turn golden. Let pans cool on a wire rack.

Spread a thick layer of dulce de leche onto half of the cookie. Top with remaining cookies. Refrigerate until ready to serve.
Recipe note: If desired, sprinkle dulce de leche with fine sea salt before adding cookie tops.