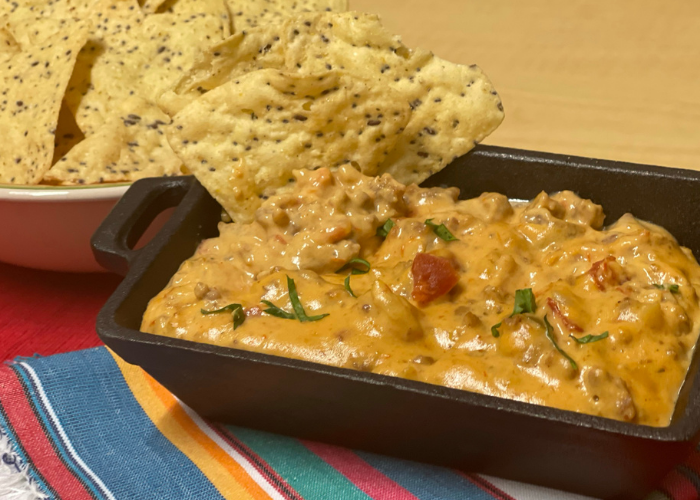 10

10

20

10

Print Recipe
Ingredients
1 lb ground beef
1 lb ground pork sausage
1 jar of salsa medium
1 20 oz. can of Rotel with green chiles
2 cloves of garlic chopped garlic
1 tsp oregano
1 tsp onion powder
1 tsp chili powder
1/4 cup of milk
32 oz block of Velveeta
Preparation
Cook ground beef and sausage over medium heat, crumbling any large pieces. Drain the fat put the meat back on the pan.

Add salsa, Rotel, garlic, oregano and onion powder or other seasonings to the cooked and drained meat. Cook for 60 seconds over low heat. Reserve.

In the meantime, cut about a half to three quarter of the Velveeta block into one inch cubes. Place in a microwave safe bowl, add the milk and microwave for about 2 minutes or until melted.

Mix the melted cheese with the ground beef and sausage in the crockpot and add the chili powder. It may be lumpy, but it will blend later. Let it simmer for about 15 minutes. Then maintain the crockpot in low or warm setting.
Serve with chips. If needed, add a little more milk and or cheese to keep it creamy. If you like it spicier, substitute the jar of salsa for another jar of Rotel and add one more teaspoon of chili powder. You can also add other seasonings like salt, pepper, cumin and a little lime juice to brighten the flavors.