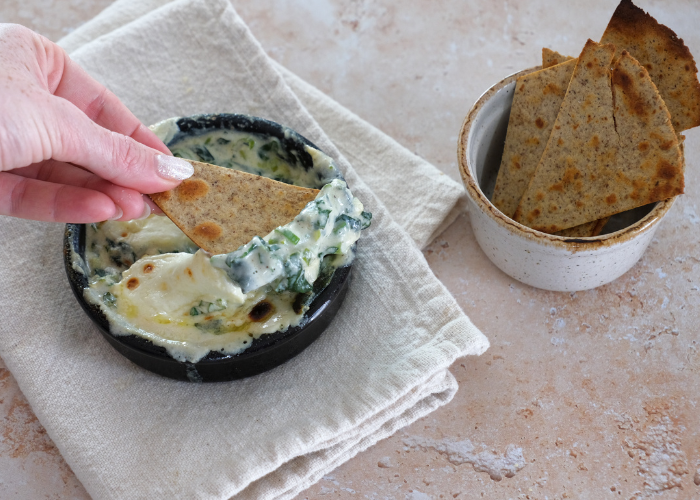 5

15

20

2-3

Print Recipe
Ingredients
Dip:
1?2 cup milk
1.5 oz mozzarella cheese
1?2 cup whipped cream cheese
2 cups chopped spinach (packed tightly) 2 scallions
1 Tbsp olive oil
1?8 tsp ground nutmeg
1?2 tsp onion powder
1?2 tsp garlic powder
Protein Chips:
1 large protein wrap oil spray
salt (to taste)
Preparation
Dip:
Add the olive oil to a hot pan on medium-high heat along with chopped scallions.
Toss the scallions around the pan for a minute and add the spinach leaves.
Season the spinach with nutmeg, onion powder, and garlic powder; then mix evenly so that all the spinach is seasoned.
Once the spinach starts wilting, add the milk. Cook for a couple of minutes while stirring until the spinach is cooked (fully wilted).
Add the cream cheese and stir it into the ingredients until it's melted; the dip will thicken into a creamy consistency.
Place the spinach dip in an oven-safe dish topped with mozzarella; broil in the oven for 5 minutes or until the cheese is golden and bubbly.
Protein Chips:
Cut a large protein wrap into triangles.
Lighty spray a baking sheet with oil and place the triangle chips on the baking sheet spread out.
Lighty spray the top of the triangle chips with oil and sprinkle salt (to taste).
Broil in the oven for 1-2 minutes or until lightly browned and crispy.
Serve with the Creamy Spinach Dip.