Easy Baked Cheese Straws with Cilantro Dipping Sauce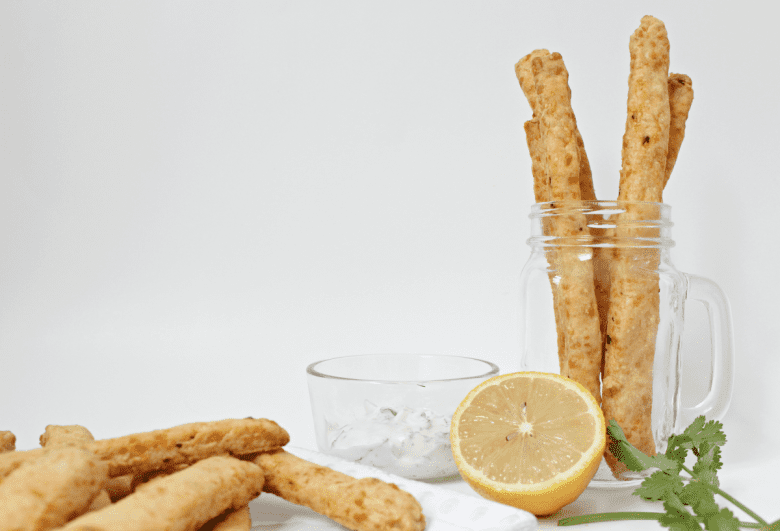 15

20

35

30
These easy-to-make, delicious baked Cheese Straws are the perfect appetizer for your upcoming holiday parties. Recipe created and written by Tracy Shaw of
Food Wine Sunshine
.

Print Recipe
Ingredients
1 stick butter softened
2 cups shredded Cheddar cheese - I used the variety with 4 types in one this is one 8 oz bag of shredded cheese
1 ¼ cups all purpose flour
½ tsp salt
1 tsp red pepper flakes
Cilantro Dipping Sauce
½ cup Plain nonfat Greek yogurt
2 tbsp coarsely chopped cilantro
juice from 1/2 lemon
¼ tsp salt
¼ tsp pepper
Preparation
Preheat oven to 350°
In a large bowl, stir/mix butter until light and fluffy.
Stir in the cheese and mix well.
Slowly stir in the flour, salt and red pepper flakes.
Mix until a dough forms. If mixture seems crumby, feel free to get in there with your hands to mold the dough.
Roll out the dough or flatten with your hands until it is approx 12 - 15 inches long and about 6 - 8 inches wide.
Using a pizza cutter or knife, cut the dough into your desired lengths. Either the full length off your dough or in half. I did a variety, some long and some shorter.
Place your dough straws on an ungreased cookie sheet, approximately 1 inch apart and bake for 20 minutes.
While baking, make your dipping sauce.
Cilantro Dipping Sauce
Mix all ingredients together and refrigerate until ready to use.
Serve cooled cheese straws with a side of dipping sauce and enjoy!
Notes
This recipe is easily doubled if you would like to make more than 30 straws. Also, feel free to experiment some with the type of cheese! Next time we are going to use pepper jack!