Potatoes Au Gratin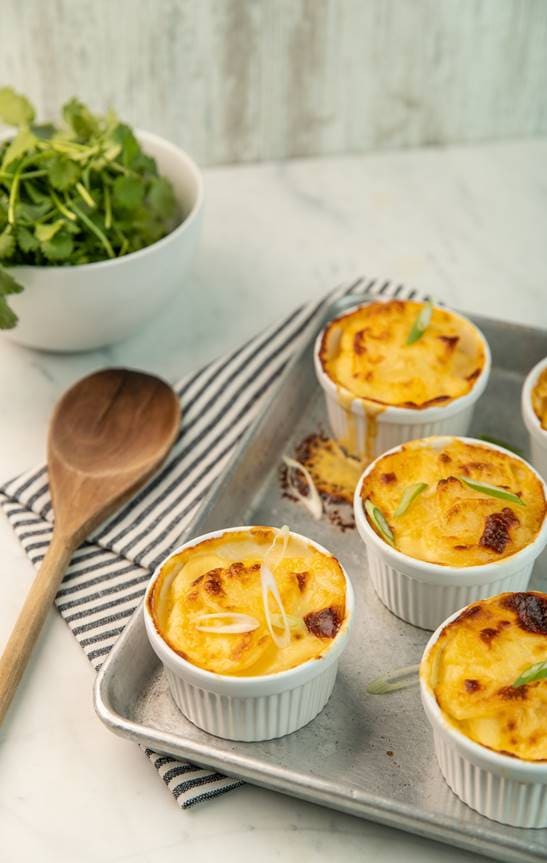 15

30

45

6

Print Recipe
Ingredients
2 lbs. Yukon Gold or Russet potatoes thinly sliced
2 cloves Garlic minced
2 cups Heavy Cream
1 cup of Milk
1 ½ tsp. Salt
2 cups shredded Mexican Cheese Blend cheese
¼ cup grated Parmesan cheese
½ tsp. White Pepper
1 Tbsp. Truffle oil
Non-stick Spay
¼ cup sliced Chives
Preparation
Preheat the oven to 350°F.

Cut potatoes in paper-thin slice rounds and place in water to rest while you make the sauce to prevent browning of the potatoes.

In a medium non-stick pot, bring heavy cream to a simmer add the Mexican cheese blend, half of the Parmesan cheese and garlic.

Add salt and pepper.

Whisk until fully melted, creamy and smooth.

Add the truffle oil.

Spray a 6 qt. casserole dish with non-stick spray and place half of the sliced potatoes in layers, add half of the cheese mixture and layer the rest of the potatoes, add the remaining cheese mixture.

Sprinkle with remaining Parmesan and Mexican Cheese blend.

Bake for 20 – 30 minutes or until fork tender and golden brown.

Sprinkle with sliced chives. Serve warm.