Serrano Ham and Gorgonzola Cheese Croquette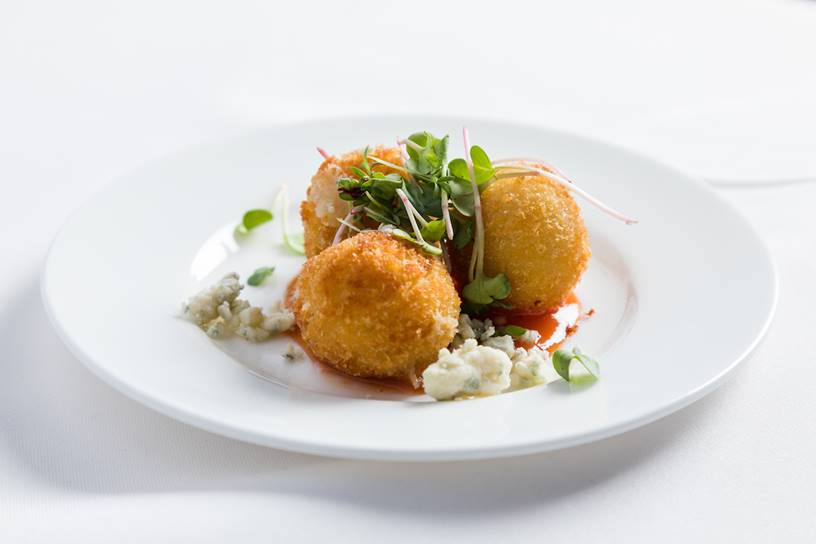 30+chilling

15

45+Chilling

6

Print Recipe
Ingredients
Serrano Ham and Gorgonzola Cheese Croquette
6 tablespoons of butter
1 medium onion, diced
1 cup all-purpose flour, more for sprinkling and producing
1 1/2 cups whole milk
1/4 cup gorgonzola cheese
Half a pound of Serrano ham, cubed
Salt, black pepper and cayenne pepper to taste
4 large eggs, beaten
2 cups Japanese panko (not seasoned)
Vegetable or canola oil, for frying
Guava sauce to accompany
Guava Sauce
10 medium ripe guavas, washed, stems removed
1 cup sugar
Pinch salt
2 cups water as needed
Preparation
Serrano Ham and Gorgonzola Cheese Croquette
Melt butter in large heavy skillet over medium heat. Add onion and sauté until softened, about 6 minutes. Add flour and cook, stirring constantly, until flour is fully incorporated but not browned, about 5 minutes.

Gradually add milk and cook, stirring constantly, until sauce is smooth and thick.

Add gorgonzola cheese, stir and remove from heat.

Add the ham, then season with salt, pepper, and cayenne pepper to taste.

Pour the mixture onto a baking sheet and spread it on an even layer. Refrigerate until mixture is cold, about 2 hours.

Lay out a baking sheet with parchment paper and sprinkle with flour. In 3 shallow dishes / trays, place flour, beaten eggs, and breadcrumbs in each.

With a 1-inch spoon, grab the dough and form balls and dump them by covering them with flour, then with the beaten eggs and finally the breadcrumbs. be sure to completely cover each kibble, otherwise they will pop open as they fry.

To cook the croquettes, add 3 inches of oil in a large deep pot and heat to 360 degrees F. Fry the croquettes a little at a time, until golden. Remove and drain on kitchen paper. Serve with guava sauce.
Guava Sauce
Scoop out the centers of the guavas and put in a separate container.
Cut the guava pulp with skin into quarters and place in a blender to puree. Add the 2 cups of water and fully blend.
Using a spatula, strain the puree, discard the skin and pulp.
Combine both strained puree's with the sugar into a pot. Cook on medium-high until it comes to a boil, stirring constantly. Add the pinch of salt and Lower to low heat. Continue to cook and stir occasionally for about 30 minutes.
Allow to chill before cooling in a covered jar or container.