Strawberry Margarita Smoothie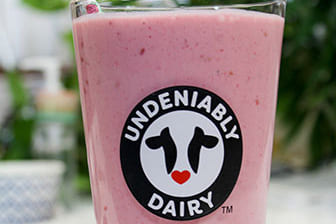 Print Recipe
Ingredients
Preparation
Total Time: 5 minutes
Prep Time: 5 minutes
Enjoy a reprieve from the daily grind. This scrumptious smoothie adds intriguing margarita mix to the classic combination of yogurt and berries.
Ingredients
1 cup vanilla yogurt (low-fat or whole)
1/2 cup frozen unsweetened sliced strawberries or unsweetened raspberries
2 tablespoons frozen margarita non-alcoholic drink mix, thawed, or frozen limeade
concentrate, thawed
Directions
1. In blender container combine yogurt, strawberries and margarita mix. Cover and blend until smooth. Pour into 14- to 16-ounce glass. Serve immediately.
Yield: 1 1/2 cups; 1 serving; (1 serving = 1 1/2 cups)