Blueberry Lemon Sheet Pancakes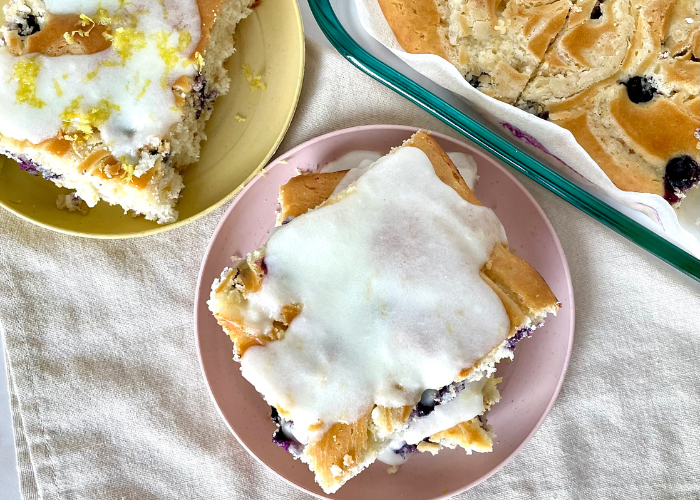 60

40

100

8

Print Recipe
Ingredients
1 1/4 cup milk
2 cups all-purpose flour
1/2 cup sugar
2/3 cup cornstarch
1 tablespoon baking powder
1/2 teaspoon salt
1 egg
2 teaspoons vanilla extract
4 tablespoons butter, melted
8 ounces blueberries
1 3/4 powdered sugar
1/4 cup lemon juice, roughly two lemons
zest of 1 lemon
1 tablespoon butter, melted
Preparation
Pre-heat the oven to 350F.
In a large bowl add in the all-purpose flour, sugar, cornstarch, baking powder, and salt. Mix till combined.
In a small bowl add in the egg, milk, vanilla extract, and 4 tablespoons of butter. Whisk to combine.
Add the wet ingredients to the dry ingredients and mix until combined.
In another small bowl, prepare the lemon glaze by combining the powdered sugar, lemon juice, lemon zest, and melted butter. Whisk until smooth.
Pour the batter into a sheet pan that has been sprayed with cooking spray and lined with parchment paper. Make sure the batter is spread evenly across the pan.
Pour some of the lemon glaze over the pancake mix and use a butter knife to create swirls in the batter.
Sprinkle with blueberries and place in the oven.
Bake for 20-25 minutes. Insert a toothpick in the center to confirm if done.
Top the pancakes with the remaining lemon glaze and blueberries.
Bonus: Feel free to get creative with toppings! You can use maple syrup, coconut flakes, chocolate chips, etc. The options are endless!