Colorfully Eerie Halloween Pancakes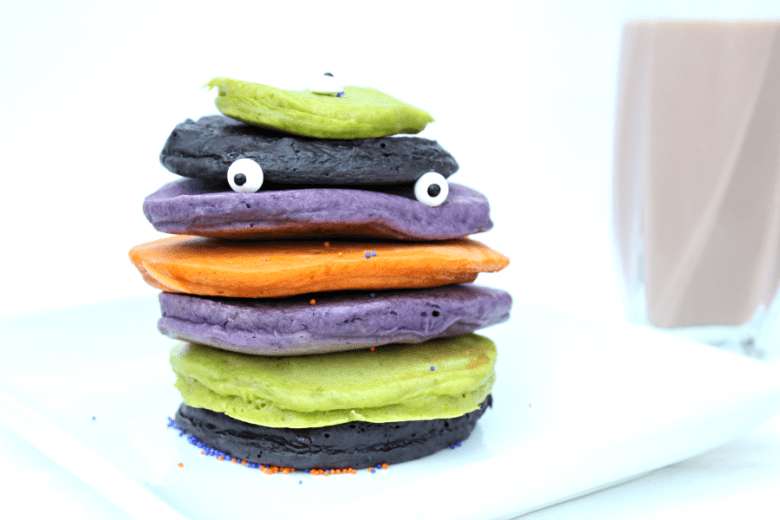 30

3

33

13
Spook up some fun with these festive, colorful Halloween pancakes, created and written by
Tracy Shaw of Food Wine Sunshine
and featuring chocolate milk, the official drink of Halloween!

Print Recipe
Ingredients
2 cups all purpose flour
1 tsp baking powder
½ tsp baking soda
½ tsp salt
2 tbsp sugar
½ tsp cinnamon
2 eggs
1 ½ cups chocolate milk
1 cup plain low fat greek yogurt
¼ cup butter - melted and brought back to room temperature
green gel food coloring
orange gel food coloring
black gel food coloring
purple gel food coloring
Preparation
In a large bowl combine all your dry ingredients: flour, sugar, baking powder, baking soda, cinnamon, and salt. Mix well.
In a separate medium bowl combine all your wet ingredients: eggs, chocolate milk, greek yogurt, melted butter, and vanilla. Whisk well.
Add the wet ingredients to the dry ingredients and mix well. Add small amounts of chocolate milk if needed to make the batter thinner. I used exactly 1 ½ cups of chocolate milk.
Divide batter into four bowls. I found the easiest way to do this was with a 1 cup measuring cup. I put approx 1 cup of pancake batter into each bowl.
Add gel food coloring to each bowl. Start with a small amount, you can always add more. Mix well until you have achieved your desired Halloween color.
Heat griddle to medium-low heat, approx 250 degrees.
Pour the desired amount of batter onto the griddle - I got 2-3 pancakes per color - but it really depends on how big you make your pancakes. If you are using a ladle, be sure to do one color at a time or clean the spoon after each color.
Cook pancakes, approx 1 - 1 ½ minutes per side depending on the size of your pancakes.
Enjoy with a cold glass of chocolate milk, the official drink of Halloween!
HAPPY HALLOWEEN!
Notes
Top with candy eyes, sprinkles, and/or whipped topping for an extra special treat.