Greek Yogurt Parfait With Fruit and Crunchy Nutty Clusters

Print Recipe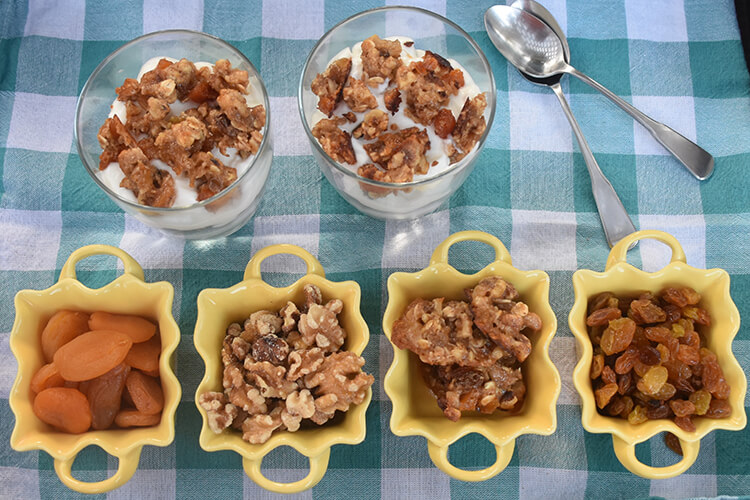 We are nearing the end of June Dairy Month. So let's raise an ice-cold glass of milk to toast Florida's more than 100 dairy farms. And while we could leave it at that, there is so much more to this monthlong focus on dairy awareness. The possibilities are endless because milk is only the beginning of this culinary journey. Just check out our new campaign "Undeniably Dairy," to see just how easy it is to help yourself to several servings of all things dairy every day. Every Thursday in June we are exploring how the versatility of dairy products fit into busy healthful, lifestyles with recipes that won't bust the budget. Today's recipe is Greek Yogurt Parfaits With Fruit and Crunchy Peanut Butter Clusters. Serve at breakfast, brunch, an after-school snack or for dessert at dinner. For brunch, set up a parfait bar to let guests add ingredients to their own taste.
Greek Yogurt Parfait With Fruit and Crunchy Nutty Clusters
Yield: 8 servings
Ingredients:
2 cups whole cashews or walnut halves, chopped
1/2 cup honey-flavored wheat germ
6 ounces golden raisins
3 ounces dried apricots, chopped
1/2 cup oats (quick or old fashioned), uncooked
1/4 cup firmly packed brown sugar
2/3 cup light corn syrup
1/4 cup creamy peanut butter
For the parfaits:
4 cups plain 2 percent Greek-style yogurt
2 cups fresh summer berries (blackberries, raspberries, blueberries, or sliced strawberries) or chopped stone fruit
Directions:
Heat oven to 350F. Combine nuts, wheat germ, raisins, apricots and oats. In a small, heavy saucepan, combine remaining ingredients. Bring mixture to a boil over medium heat, stirring constantly. Immediately pour over nut mixture, stirring until well-coated. Drop by rounded teaspoons onto a parchment paper lined baking pan. Bake 8 to 10 minutes. Remove from oven and cool completely. Roughly chop half the clusters for the parfaits, save remaining treats for snacking. The will keep in the freezer well for up to four weeks.
To assemble the parfaits, spoon 1/4 cup yogurt into each of 8 clear glasses. Top yogurt with 2 heaping tablespoons of the chopped nutty clusters and 2 tablespoons fruit. Repeat layers with the remaining ingredients.
Time-saver tips
• Use granola instead of baking the crunchy nutty cluster.
• Make the crunchy nutty clusters up to three days ahead and freeze until ready to use.
• Use frozen (thawed) fruit.
Dairy and your health
Your mother was right. Breakfast is the most important meal of the day. Breakfast eaters tend to have better diets overall, consuming more fruit, vegetables, milk, and whole grains than non-breakfast eaters, according to Consumer Reports magazine. Low-fat yogurt and milk can be an essential part of that morning meal, while still staying on track with your healthful lifestyle goals. Eating within two hours of waking can make a difference in the way you metabolize glucose, or blood sugar, all day. Your glucose level rises every time you eat, and your pancreas produces insulin to shuttle the glucose into your cells, where it's used for energy. Research is finding that keeping glucose and insulin in the right balance has important effects on metabolism and health.
Florida Diary fun facts
• Cows chew their cud at least 50 times per minute.
• Cows can walk up stairs, but not down stairs.
• Milk imitators such as almond and soy contain 10 or more added ingredients including salt and even added sugar. Cow's milk, on the other hand, is pure and simple, and that means no antibiotics too.
If you like this...