Hawaiian Sweet Bread French Toast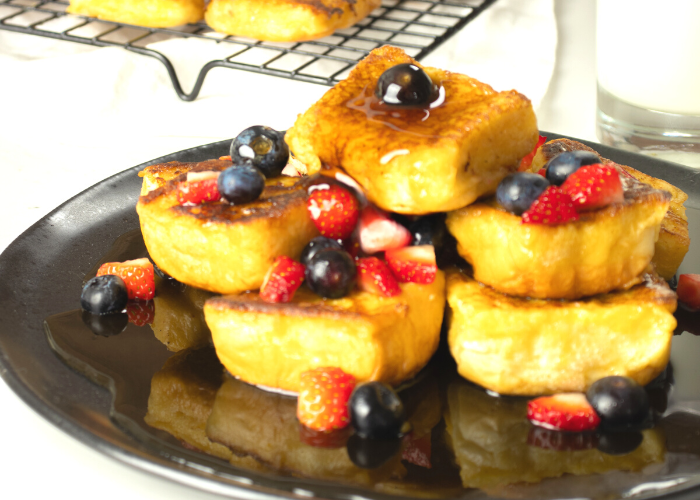 10

15

25

4

Print Recipe
Ingredients
0.67 package Hawaiian bread (*see note below)

2 large eggs

0.17 cup milk or cream

0.33 teaspoon vanilla extract

0.17 teaspoon cinnamon

pinch of salt

4-5.33 tablespoon butter
Preparation
If not using pre-sliced bread, slice your Hawaiian rolls in half (if using the mini sliders) or in ¾-1" thick slices (is using a loaf).

If possible, allow your bread to dry out a bit. Using semi-stale bread will crisp up better preventing a soggy french toast.

Add your eggs, vanilla, milk, cinnamon and salt to a large mixing bowl. Whisk well.

Add 2-3 tablespoons of butter to a skillet set over medium heat.

Toss a few slices of bread into your custard mixture and coat thoroughly making sure not to tear it.

Tip* Add your bread to the mixture as you fry. Letting it sit in the custard mixture too far in advance will make it soggy.

Fry the bread in 2-3 batches in your skillet keeping an eye on the heat.

After a few minutes, flip your slices. You are looking for the bottom to turn golden brown and crispy. If the bread is browning too quickly, turn down your heat!

Allow french toast to drain on a wire rack and serve hot! You can also keep your bread warm in the oven at 200°F until ready to serve.
Recipe Notes
*There are a few different options depending on what's available to you. In this recipe, I used King's Hawaiian mini slider rolls. You can also use a loaf or pre-sliced bread if that's what you find.
Store french toast in the fridge for up to 3 days or in the freezer for 8 weeks. Reheat in the oven at 325 F until just warmed through.