Kids' Breakfast Sushi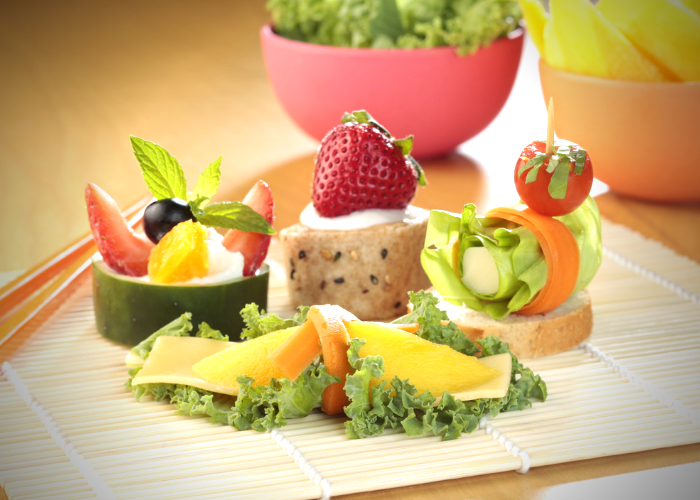 10

0

10

1

Print Recipe
Ingredients
Ebi Mango
1 piece baby kale

1-1 inch slice gouda cheese

1-inch piece mango

1 shredded carrot, sliced thin
Maki
1 cucumber, cut into 1-½ in slices

4-5 strawberries

¼ C yogurt

1 tangerine

12-15 mint leaves

4-5 blueberries

1 tsp ginger, grated
Fuji String Along
1 stick string cheese

I piece bib lettuce

3 slices shredded carrot

1 slice crostini

1-½ cherry tomatoes

¼ tsp strips of fresh basil

3 carrot pieces, small
Takka Roll
½ C honey

1 C powdered milk

½ C peanut butter

1 C crushed graham crackers

2 whole wheat tortillas 8-10" diameter

2 T honey

¼ tsp black sesame seeds

1 banana, split in half lengthwise

1 C vanilla Greek yogurt

6 strawberry, halves
Preparation
Ebi Mango
Place cheese on baby kale, top with mango.

Wrap and tie with sliced carrot.
Maki
Cut thick cucumber slices. Make "cups" by removing seeds at an angle.

Cut one strawberry into 4 sections. Place the strawberry wedges in cucumber at an angle along the edge of the cucumber. Fill the center of the strawberry flower with a small amount of plain Greek yogurt to hold strawberry in place.

Section a tangerine into wedges and cut across it to make little triangles. Place triangles between each strawberry wedge.

Top with mint leaves. Place a small amount of grated ginger in the center and a blueberry on top.
Fuji String Along
Roll string cheese in bib lettuce; tie with shredded carrot and place on crostini.

Top with ½ cherry tomato filled with basil and slice of carrot.

Put tooth pick through tomato, cheese and carrot slice to hold upright. Sprinkle with fresh basil.
Takka Roll
Prepare peanut butter mixture by mixing first four ingredients together; set aside.

Coat a tortilla with a thin layer of honey and sprinkle a few black sesame seeds. Flip over and coat with peanut butter mixture.

Put 1/2 of banana on top and roll tortilla. Slice into 6 pieces. Place a dollop of yogurt on top of each slice and top with half a strawberry.