Ricotta Avocado Toast with Roasted Tomatoes, Mushrooms, and Farm Egg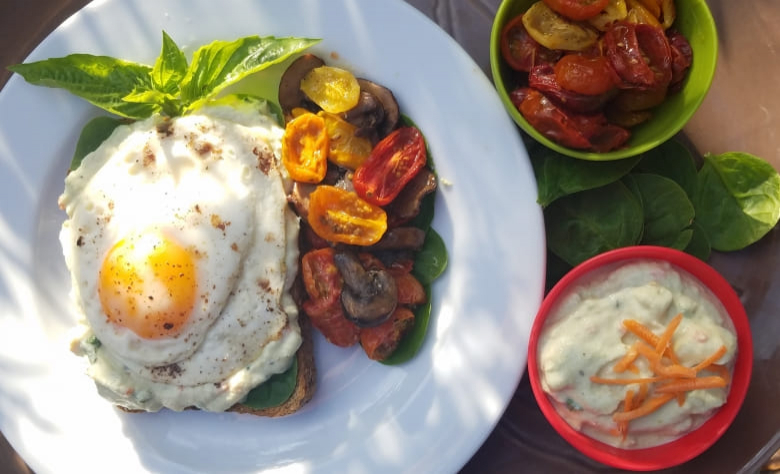 30

60

90

6
June Dairy Month is the perfect time to go dairy forward at a Father's Day brunch.
Toast toppings with dairy are quick, easy ways to embellish a morning staple. Avocado toast is one of the decade's most popular food trends. Combine the smashed buttery avocado with ricotta, whole milk, fresh herbs, chopped vegetables, and a poached or over-easy farm egg and you have a great breakfast for Father's Day or any day.
The cooking time is a little long for this recipe, but this is geared for a special occasion – not a quick bite and dash out the door to work. Good news for busy home cooks: The recipe has many make-ahead elements so that assembly can go very fast.
I added roasted tomatoes and sautéed mushrooms on the side to make it a true Fresh From Florida meal. Serve with prosciutto, thick-cut bacon, and a bloody Mary or mimosa.
Recipe provided by Heather McPherson from Heather's Florida Kitchen.

Print Recipe
Ingredients
Olive oil for sautéing and drizzling
1 tablespoon butter
1 small clove garlic, minced
8 ounces sliced Florida crimini mushrooms
1 pint Florida heirloom tomatoes, halved, or more to taste
Coarsely ground salt and pepper to taste
1/4 cup whole milk or half-and-half
2 cups ricotta cheese
2 cups roughly mashed Florida avocado (see note)
2 tablespoons freshly chopped basil, plus whole leaves for garnish
1/3 cup finely chopped carrot (see note)
1 tablespoon freshly squeezed orange juice
4 poached or basted sunny-side-up eggs (see note)
6 (1/2-inch) slices multigrain Italian bread, toasted
1 cup baby spinach, stems removed
Preparation
Preheat oven to 375F.
Heat 1 tablespoon olive oil and 1 tablespoon butter in a sauté pan on medium high. When the surface shimmers, add the garlic and stir. Add the mushrooms and let cook for 10-15 minutes, stirring occasionally, until browned and tender. Set aside and keep warm.
Spread halved grape tomatoes cut side up on a rimmed baking sheet. Drizzle generously with olive oil. Season with salt and pepper. Place in preheated oven and roast 20 minutes, and then stir. If tomatoes appear dry, drizzle with more olive oil, and toss. Return pan to the oven and roast 20 to 30 more minutes. When done, the tomatoes will have shriveled just a bit and glisten. Set aside and keep warm.
Mix milk, ricotta cheese, mashed avocado, salt, pepper, chopped basil, chopped carrots, and orange juice in medium bowl. Set aside.
Poach or fry eggs and keep warm. While eggs are cooking toast bread and keep warm.
Lay spinach leaves on top of warm toast. Spread a generous amount of the ricotta mixture on top. Top each with 1 poached or sunny-side-up egg.
To serve, mix warm tomatoes and mushrooms and divide among plates next to egg-topped toast. Garnish plates with basil leaves.
Recipe notes:
Florida avocadoes, which are large with a smooth skin, are harvested from late May through March. When purchasing an avocado, look for fruit that is heavy for its size and slightly firm. A firm avocado will ripen in a paper bag or in a fruit basket at room temperature within a few days.
Buy shredded carrots to make quick work of prepping this ingredient. Simply chop for uniform finely cut pieces. Also, for a variation that adds additional color and texture: Quick fry a handful of the shredded carrots in bacon drippings or olive oil and add to the tomato and mushroom mixture.
The tomatoes and mushrooms can be prepared up to a day ahead of time. Gently warm on a baking sheet while toasting bread and cooking the eggs.
Sunny-side-up eggs are cooked on one side and not flipped like over-easy eggs. Alternately covering the pan and basting the tops with the fat in the pan helps create a runny yolk.
How to make basted sunny-side-up eggs
Heat 2-3 tablespoons butter or bacon drippings in a nonstick skillet over medium-high heat.
Break eggs and slip into pan, one at a time. Immediately reduce heat to low. Cook until edges turn white, about 1 minute.
Using a small spoon, baste eggs with hot butter or bacon drippings in the pan. Cover pan between bastings and continue cooking until whites are completely set and yolks begin to thicken but are not hard, 4 to 5 minutes.
How to poach eggs
Heat 2 to 3 inches of water in large saucepan or deep skillet to boiling. Adjust heat to keep liquid simmering gently.
Break eggs, 1 at a time, into custard cup or saucer. Holding dish close to surface, slip egg into water.
Cook eggs until whites are completely set and yolks begin to thicken but are not hard, 3 to 5 minutes. Do not stir. Lift eggs from water with slotted spoon. Drain in spoon or on paper towels. Trim any rough edges, if desired. Season with salt and pepper.