Print Recipe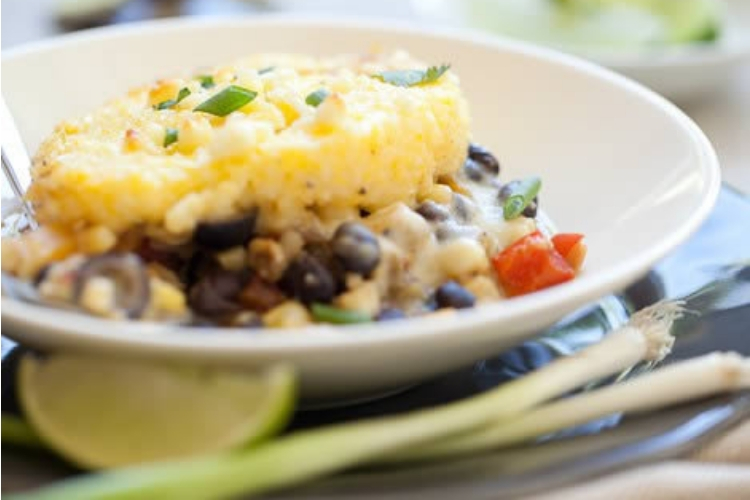 Makes 8-10 servings
Ingredients:
5 tablespoons plus 1 teaspoon butter, divided
1 medium yellow onion, diced
4 cloves, pressed or minced
2 teaspoons cumin
1 tablespoon chile powder
1 teaspoon oregano
1 roasted red pepper (jarred or fresh roasted), chopped
2 15-ounce cans black beans, drained
2 cups corn kernals, thawed if frozen
1 ½ cups zuchinni, diced
1 15-ounce can diced tomatoes (or 2 medium fresh tomatoes, diced)
1 15-ounce can sliced black olives
1 7-ounce can diced and fire roasted green chiles
1 cup green chile enchilada sauce or tomatillo salsa
Kosher salt
2 cups coarse corn meal or polenta
4 cups Pepper Jack Cheese, divided
¼ cup cilantro, chopped
Cotija or Feta cheese for topping
green onion for garnish
lime wedges
cilantro
Directions:
Heat a large pan over medium high heat, and melt 1 tablespoon of the butter. Add onion, garlic, cumin, chile powder and oregano and sauté for 3-5 minutes or until onion becomes translucent, stirring occasionally. Add roasted red pepper, black beans, corn, zucchini, tomatoes, olives, green chiles, enchilada sauce or salsa and cook for 2-3 minutes until warmed through.
Prepare a 9 X 12 casserole dish with 1 teaspoon butter. Set aside.
In a large sauce pan bring 6 cups water to a boil and add 1 teaspoon kosher salt. Slowly add corn meal to water and stir for 1 minute, reduce heat to medium-low and continue to stir for about 5 minutes or until corn meal becomes tender. Add remaining 4 tablespoons butter to corn meal and stir to combine. Add 2 cups Pepper Jack cheese and mix until melted.
In casserole dish, add 1 cup of polenta and coat bottom of dish. Top with vegetable mixture, then layer remaining 2 cups cheese over vegetables. Top with corn meal mixture and spread evenly over top of casserole mixture. Top with Cotija or Feta cheese crumbles, cover pan with foil and bake in oven for 30 minutes. Remove foil from dish and bake uncovered for 30 more minutes. Remove from oven and rest for 5 minutes. Serve with chopped green onion, lime wedges and cilantro.
Recipe provided by Go Bold With Butter
If you like this...