Chocolate Pumpkin Crepe Cake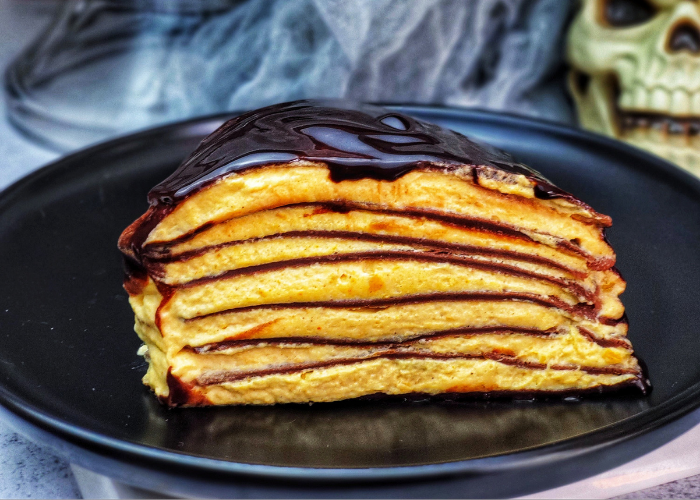 25+chilling

10

35+chilling

12

Print Recipe
Ingredients
Crepe batter:
1 cup all-purpose flour

1/4 cup unsweetened Dutch-processed cocoa powder

1/4 cup sugar

1/2 teaspoon pumpkin pie spice

1/4 teaspoon salt

1 3/4 cups whole milk @floridamilk

4 tablespoons unsalted butter, melted and cooled slightly, plus more for the pan

3 large eggs

1/2 teaspoon pure vanilla extract
Pumpkin Filling:
1/2 cup sugar

2 large eggs

3 tablespoons cornstarch

1/2 teaspoon pumpkin pie spice

1/2 teaspoon pure vanilla extract

1/4 teaspoon salt

1 cup whole milk

1 1/4 cups pure pumpkin puree

1 cup cold heavy cream
Ganache Topping
4 ounces dark chocolate

1/2 cup heavy cream
Preparation
Start with the Crepes: Combine the flour, cocoa powder, sugar, pie spice, salt, milk, melted butter, eggs, and vanilla in a blender. Blend until smooth. Transfer the batter to a bowl; cover and let sit for 1 hour.

While the crepe batter cools, whisk the sugar, eggs, cornstarch, pie spice, vanilla and salt in a medium bowl. Set aside. Combine the milk and pumpkin in a medium saucepan and cook over medium heat, whisking, until steaming. Gradually whisk in the egg mixture and bring to a boil, whisking constantly, until very thick. Pour the Pumpkin Filling into a bowl, cover and refrigerate for 2 hours.

Beat the heavy cream in a large bowl with a mixer on medium-high speed until stiff peaks form. Fold the whipped cream into the Pumpkin filling until combined. Refrigerate until firm, at least 1 hour.

Line a baking sheet with parchment paper. Heat an 8-inch nonstick skillet over medium heat until hot; lightly brush with melted butter. Add about 5 tablespoons batter and swirl to coat the bottom of the pan. Cook until the crepe is dry on the bottom and set on top for about 3 minutes. Carefully flip and cook 30 more seconds. Invert onto the prepared baking sheet. Repeat with the remaining batter to make about 12 crepes, brushing the pan with more butter and stacking the crepes as you go.

Assemble the cake by laying a crepe on a plate or cake stand and spread with 2 to 3 tablespoons of the pumpkin filling, spreading it to the edges. Top with another crepe and repeat with another layer of the pumpkin filling. Layer the remaining crepes and filling, ending with a crepe. Refrigerate the cake at least 6 hours or overnight.

For the Ganache. Put the chocolate in a small bowl. Heat the heavy cream in a small saucepan over medium heat until steaming, then pour over the chocolate. Let sit 5 minutes, then whisk until melted and smooth. Let sit until thickened but still pourable, for about 5 minutes. Pour the ganache over the crepe cake, letting the excess drip down the side. Let the chocolate set, about 15 minutes. Cut into slices and Enjoy!