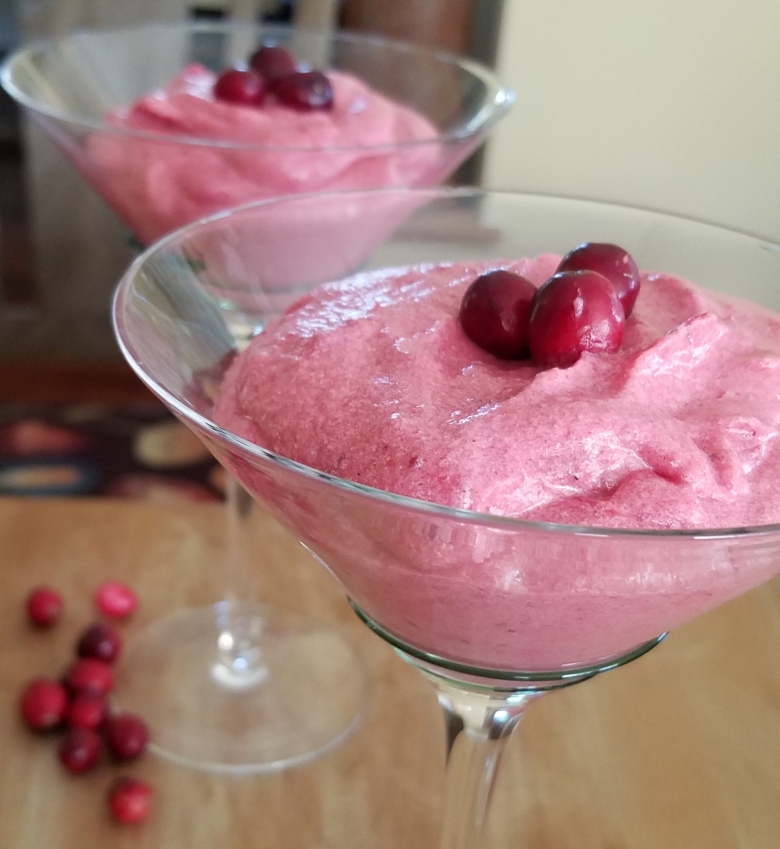 10

15

25

8
During the holiday season fresh cranberries are often regulated to the ubiquitous sweet-tart sauces that tame the richness of turkey stuffings or dressings, from-scratch pan gravies, and candied sweet potatoes. From cocktails to desserts, cranberries are a versatile ingredient. I like to combine the two categories for a spirited creamy treat: Cranberry-Orange Mousse. Velvety heavy whipping cream creates lovely base for the mousse. Serve in clear cordial glasses or wine glasses.
Recipe written and created by Heather McPherson.

Print Recipe
Ingredients
2 (8-ounce) package fresh cranberries, reserving a few berries for garnish
1/2 cup freshly squeezed orange juice
1/2 cup water
1/2 cup plus 1 tablespoon orange liqueur, such as Grand Marnier, Gran Gala, or Cointreau, divided
½ cup super-fine granulated sugar, divided
2 tablespoons fresh orange zest
1 teaspoon cinnamon
2 cups whipping cream
Preparation
Place cranberries in a large saucepan with orange juice, water, 1/2 cup orange liqueur, 1/4 cup sugar, orange zest, and cinnamon over medium-high heat and bring to a boil. Reduce heat to medium and continue cooking, stirring frequently, until cranberries begin to pop and break down, about 15 minutes. Remove the pan from heat and let rest for 5 minutes. Working in batches, transfer to the work bowl of a food processor or blender and process until smooth. Pour pureed mixture into a large mixing bowl.
In a large bowl, whip cream with an electric mixer until soft peaks form. Add remaining 1/4 cup of sugar and remaining orange liqueur. Continue whipping until stiff peaks form.
With a rubber spatula, gently fold the whipped cream into the cranberry mixture. Cover and chill for 1 hour. Serve garnished with reserved cranberries.
Test Kitchen notes:
Additional whipped cream for garnish would be over-the-top, but it wouldn't be wrong.
You can skip the liqueur and increase the orange juice for cooking the cranberries to 1 cup. For the whipping cream, skip the liqueur and add 1 tablespoon pure vanilla or almond extract.
Cold beaters and a cold bowl make quick work of whipping cream.
If you don't have superfine sugar, you can use regular granulated sugar because it's essentially the same product; the only difference is that the crystals of superfine sugar are smaller. If you have a blender or food processor, you can even make superfine sugar by using granulated sugar, just process for 30 seconds. Use the same quantity.