Gingersnap Cheesecake Bars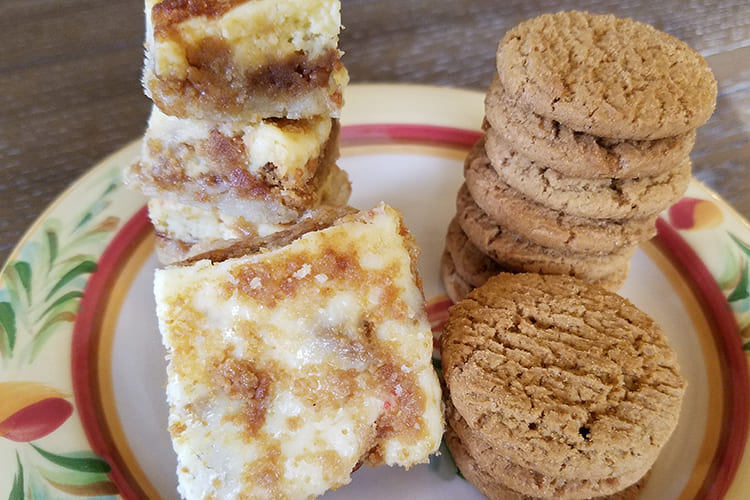 10+cooling

50

60+waiting

36
Gingersnap Cheesecake Bars have a wonderful rich and creamy flavor with judicious notes of pepper, cinnamon, nutmeg, and cloves. Superfine sugar dissolves quicker than regular granulated sugar, but you can use either in this recipe. Be sure to build in time to let the bars chill overnight for best results.

Print Recipe
Ingredients
1 (16-ounce) package sugar cookie dough
2 1/4 cups coarsely crushed gingersnap cookies
2 (8-ounce) packages low-fat cream cheese, softened
1/3 cup superfine granulated sugar
1/2 teaspoon fresh lime zest
1 tablespoon almond liqueur (such as Amaretto) or 1 teaspoon pure almond extract
1 teaspoon allspice
2 large eggs
Preparation
Heat oven to 350F. Line a 13-by-9-inch pan with foil or parchment paper, extending the foil or paper an inch over the handles of the pan. Press the sugar cookie dough in the bottom of the lined pan. Top with 1 cup of the crushed cookies pressing them into the dough. Bake 15-20 minutes or until surface is a light golden brown. Cool 10 minutes. Be careful not to overbake.
With an electric mixer combine cream cheese, sugar, zest, liqueur, allspice, and eggs. Dollop all over baked crust and then spread evenly to cover. Sprinkle with 1 cup crushed cookies.
Bake 30-35 minutes or until filling is set. Cool 1 hour on a wire rack. Refrigerate overnight. Using foil or parchment "handles," lift bars from pan and place on a cutting board. Sprinkle with remaining crumbled cookies. Cut into bars.