Monster Cookies Served with a Chocolate Milkshake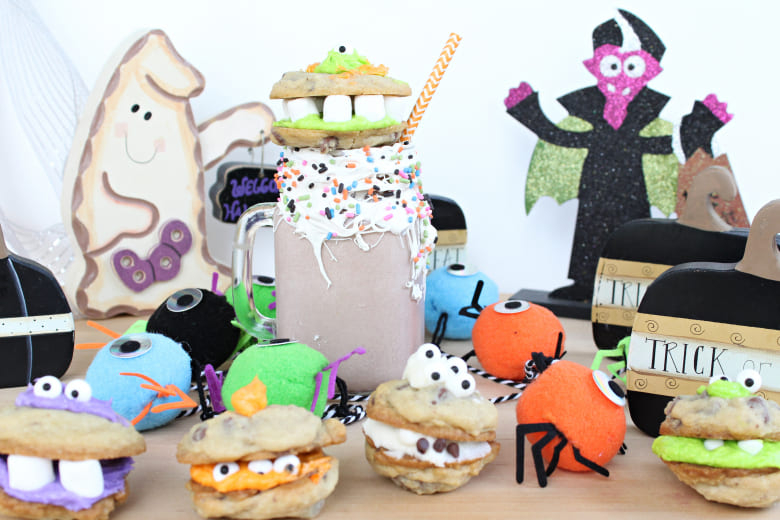 15

10

25

N/A

Print Recipe
Ingredients
Frosting Ingredients
1 stick butter - softened/room temperature
2 cups powdered sugar
1 tsp vanilla
2 tbsp milk
Purple Food Coloring Gel
Orange Food Coloring Gel
Green Food Coloring Gel
Spooky Decorations
Mini Marshmallows for teeth and/or eyes
Candy Eyes
Chocolate Chips and White Chocolate Chips for teeth or eyes
Chocolate Chip Cookies Ingredients
2 ¼ cups Flour
1 tsp Baking Soda
2 Sticks Softened Butter
¾ cup Sugar
¾ cup Brown Sugar
1 tsp Vanilla Extract
2 Eggs
2 cups Chocolate Chips
Chocolate Milkshake Ingredients
2 scoops chocolate ice cream
3/4 cup chocolate milk
Preparation
Chocolate Chip Cookie:
Preheat the oven to 375 degrees.
In a large mixing bowl, combine butter, sugar, brown sugar, baking soda and vanilla extract using a mixer.
Beat in the eggs one at a time.
Slowly add the flour 1/4 a cup at time.
Mix in the chocolate chips.
Prepare baking sheets with cooking spray or parchment paper.
Make small cookie dough balls, approximately 1 inch.
Place the cookie dough balls onto the baking sheet and bake for 10-12 minutes or until golden brown. Allow the cookies to cool.
While the cookies are cooling, divide the frosting into four small bowls. Add green, purple and orange gel food coloring and mix well. Leave one white if desired.
Once the cookies are completely cooled, place a spoonful of frosting between two cookies.
Add a little frosting on the top cookie to hold the eyes and other fun decorations in place.
Frosting:
In a large bowl (or in the bowl of a stand mixer), mix the butter until smooth.
Mix in the powdered sugar, a little at a time.
Add in the vanilla extract.
Add in 2 tablespoons of milk a little at a time too.
Blend until smooth.
Chocolate Milkshake:
Blend ingridents until smooth
Enjoy with Halloween Cookies!