Strawberry Amaretto Trifle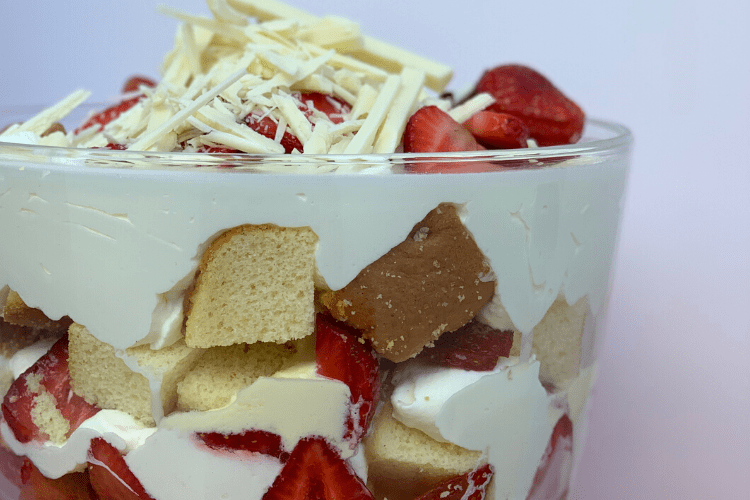 15

10

25

6

Print Recipe
Ingredients
1 vanilla bean, halved
4 cups heavy cream, divided
6 egg yolks
1/2 cup granulated sugar
1/2 cup Amaretto
2 whole Prepared pound cakes, cubes into 1 inch by 1inch pieces
4 cups fresh or fresh strawberries, sliced
1/4 cup confectioners' sugar
1 cup Dark or White Chocolate shavings
1/2 cup silvered almonds
3-5 chocolate covered strawberries )optional)
Preparation
To make the creme anglaise, in a small saucepan, bring 2 cups cream to medium heat with vanilla bean, do not allow to boil. Remove from the heat and let cool slightly. In a medium bowl, beat the egg yolks and 1/2 cup granulated sugar until ribbons form. Gradually add 1 cup of the warm cream, and mix well. Add back to the pot with the remaining cream and stirring constantly cook over low heat until thick enough to coat the back of a spoon. Remove from the heat and strain through a fine strainer, discarding the vanilla bean. Allow to cool and set aside.
In a medium bowl, whip the remaining 2 cups of cream with the confectioner's sugar to make a whipped cream.
To assemble the trifle, add slices of pound cake to fit tightly into the bottom of a trifle bowl (or a 1 1/2-quart decorative glass bowl), and slightly up the sides about 1-inch. Drizzle or sprinkle the cake with Amaretto. Top with 1/3 mixture of cream anglaise, followed by the strawberry slices, and then the whipped cream. Repeat until the trifle bowl is full. Garnish with chocolate shavings, slivered almonds and chocolate covered strawberries.
Refrigerate and serve. Store any leftovers in the fridge.
Note: Feel free to top the trifle with your favorite chocolate shavings; dark chocolate, milk chocolate, white chocolate, etc . . . You can also incorporate chocolate into the Creme anglaise by adding 1 cup of unsweet chocolate savings once the Creme anglaise is fully prepared. If you would like to substitute the amaretto for almond extract reduce the amount to 2 teaspoons of extract.